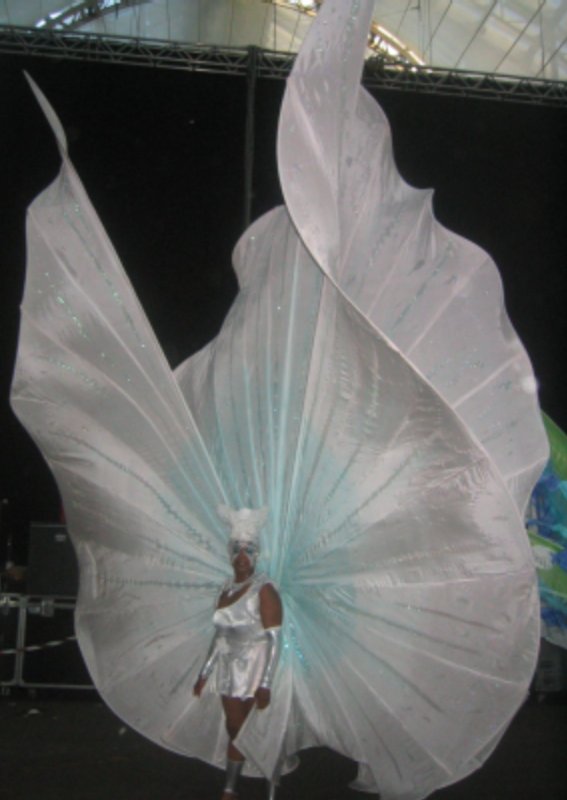 London School of Facepainting students were invited to form a team to do make-up for a costume band at Notting Hill Carnival.
Bibi had already done make-up for the wearers of the big costumes for the 'Carnival Splash' event beforehand, but couldn't be with them on the day. So the team had a two day crash course in this specialised area, and loved it!
The theme was "Emotions" with various interpretations in costume design. The challenge is to design a make-up to go with each "section" of costumes and apply it at full speed on 200 revellers in the couple of hours it takes to get ready in the morning on two days of wild celebration. The course was held at the "Mas Camp" where the costumes are made, which is fascinating in itself. We ended up with a team of 6, each of whom took on one or two designs.
Christine Evans got to grips with her new airbrush and did a lovely lacy design on the girls in white with so much "Serenity" that she had time to spare! This meant that she could help Sophie with her "Tempest" using other techniques, including sponging through stencils - which helps keep continuity through each group's design.
Christine Mavromatis made order out of "Chaos" (another section), and Christine Whitelock got to grips with "Passion". Yes, we had 3 Christines! Lindsay Schusman went into "Rhapsody" over stencils while Emmeline Paul fulfilled her "Desire" to get involved in Carnival, her children wore costumes on Children's Day! The band were over the moon with the results and everyone went home tired and happy!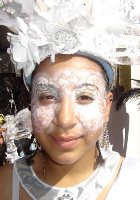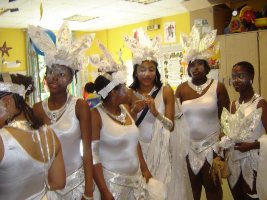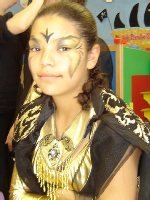 These are Christine M's pictures of Serenity, a group of Serenity and Tempest.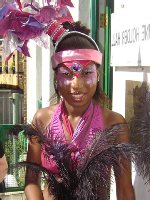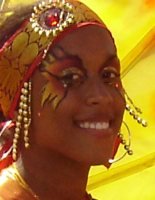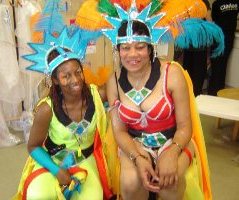 These are depictinons of Passion, Desire and Chaos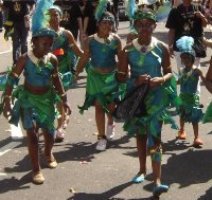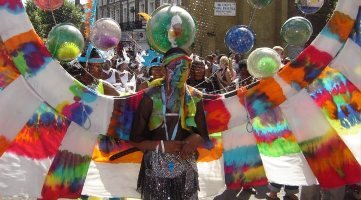 These characters are Rhapsody and the King of Chaos.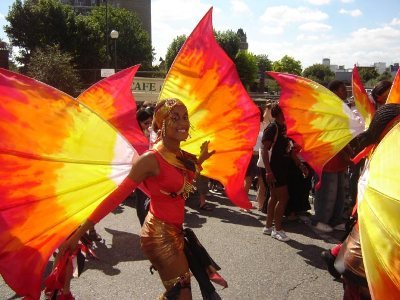 These spectacular characters portray Desire 'on the road'.
Read on to see what the students have to say :
It was a great day. Really busy and at times totally frantic but it all came together in the end !!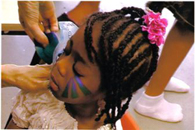 The children - and I had quite a few young children - were just brilliant. They sat so amazingly still and were a pleasure to paint!It was also the first time I had used the technique of stencils. I still prefer the freedom to paint designs with a brush, but when you're working against the clock and everyone has to look the same, it's a superb method and it worked a dream.

When everyone was made-up and in costume, it was terrific to watch them all set off to be in the carnival. I really enjoyed it. Hard work but rewarding. LINDSAY SCHUSMAN
The first thing I noticed when I arrived to paint faces for the South Connections Band was the atmosphere - pure excitement, anticipation and goodwill. . The day had been a whole year coming and I felt that. It was brilliant to be a part of that atmosphere and the South Connections people, and a real privilege to be involved in the design and application of their make-up. The two workshops gave a hint of what carnival would be like, so I was looking forward to it, but on the day, it was just something else! The atmosphere was really buzzing and we were working flat out. It was hard work, but a lot of fun (work doesn't really seem the right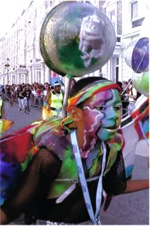 word for it) but the word knackering comes to mind!. Anyway, despite the mayhem, the band eventually assembled outside ready to go on the road, and I couldn't resist dropping the job of cleaning up the paints to get out there to see the band! The costumes looked stunning (our make-up designs complemented them just the way we hoped they would). Wow! After two workshops and three hours of furiously painting faces with no time to look up, it was just the best thing to see them all together and looking so good. Everyone proud and smiling and excited (including me)! And then the music started and the dancing was really something to see. The beat got right inside my body, so I felt it as much as I heard it. Wish it came natural to me to start wining and jumping to dat sound, cos I would have been right off with them! Well, I could go on, but guess it's good to know when to stop. Definitely want to be there next year. Loved the whole experience! CHRISTINE MAVROMATIS
There are also a zillion brilliant pictures at www.phatfotos.com from this year, and years gone by. For this year's splendid offering go to 2005 Temporary Gallery (they're still being sorted) and look for South Connections. Some of the images are stunning, you can order prints from photographer Tim Holt if you follow the email links. The Splash event with Bibi's work is also featured as a temporary page, look for scn prefix images starting on P17. The other team did make-up for Flamingo Carnival Club (Splash prefix fcc from P4).