Mar 14, 2017
CLOWN GIRL
by Caro Childs
I don't know any face painters who really like painting clowns, so when I saw Bibi's beautiful little girl clown I thought I would have a go - and take photos for this step by step. Of course it is not exactly the same, but when ever you are working from some one else's design it is important to let your own style come through. I did ask nicely, so I am not nicking a friend's design - just paying homage.
For this I used:
Grimas cake white, Grimas bright yellow 203 and a little Grimas bright green 407
Grimas azure blue 304 blended with Grimas Pearl blue 730, Grimas deep pink 508 and Grimas Pearlised pink 753 and blushed with Stargazer neon red blusher. Brush details were done with Paradise black and Grimas white 001.
Polyglitter and holographic glitter were both used for finishing sparkle.
I mostly used a daVinci no6 Harbin Kolinsky brush, but I used a Grimas synthetic no2 for the white dots.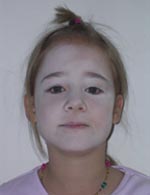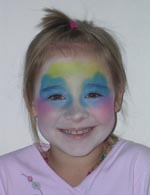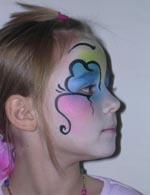 Sponge cake white to give a thin even film of white, then sponge bright yellow across the forehead blending a little green into it to give a really acid yellow.
Sponge blue into the eyesockets and above the eyebrows making a cloud shape. Pinch your sponge so that you have complete control over the it. (It only works with sponges, don't try pinching your kids - it only makes them worse.)
Work pearl blue into the azure blue and fade it out, under the eye and on to the cheeks.
Dab bright pink 508 and blend with pearl pink into the blue and away up the cheeks. Paint an outline in black. Be imaginative it doesn't have to be symmetrical. There is a bit of a french look going on in this design so try to keep that feel.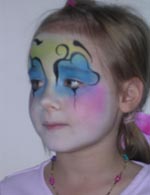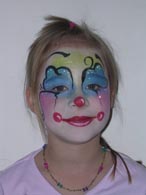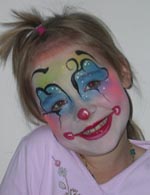 Red lips and nose and some white dots are the final paint details, but I then blushed the face in neon red and added lots of glitter. Beth was so pleased she decided to have a go.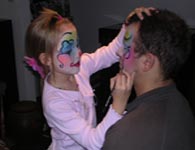 ---