THE PARTY - MEET THE FAMILY
The 'Gala Dinner' was beckoning all surviving souls, and we were keen to see how people had interpreted the Wild West theme, and whose guns would be pointed at whom 'under the table'. Here are just a few photos of the Family in disguise.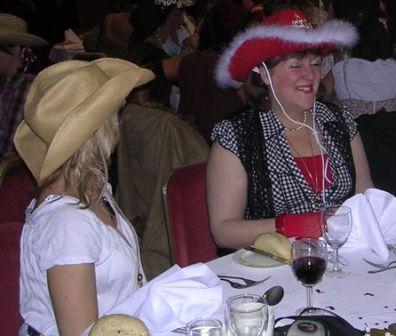 DER KNEES UN-DER TABLE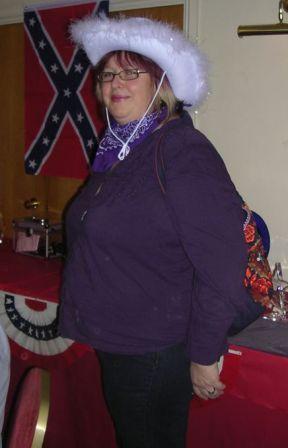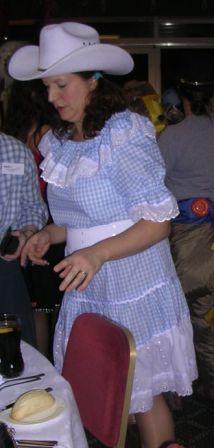 PRETTY PAULA AND A FLOOZIE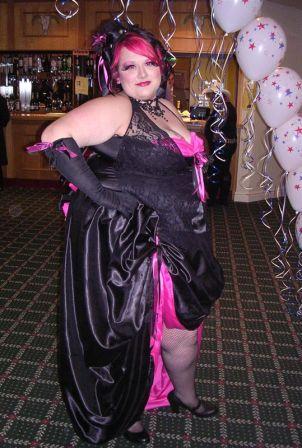 MICHELLE WITHEY (with Jennifer Parker) deservedly won the prize for Best Costume, as well as Best Newcomer.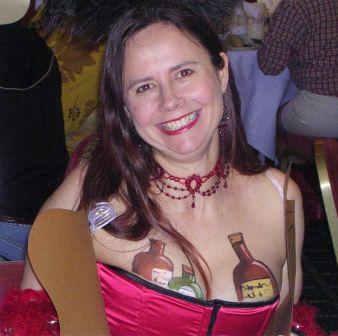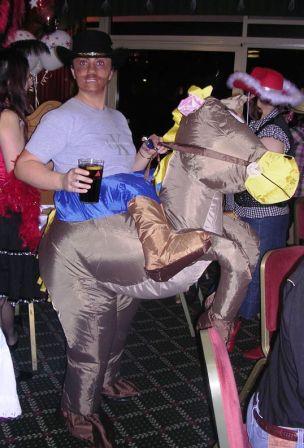 KAT RAMSEY OPERATES AN OPEN DOOR POLICY AND AMANDA WILLIAMS GETS ON HER HIGH HORSE
Kat's saloon doors were such a clever and well executed idea! Amanda Willams had her horsiness concealed under her napkin, it could be inflated at will, and was huge fun.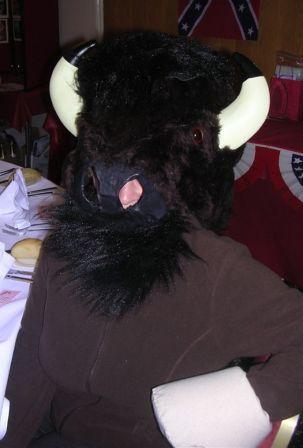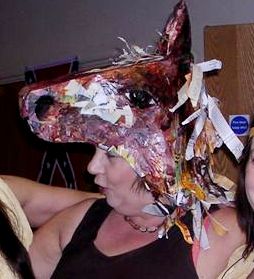 Glyn Goodwin went for head honcho in a bison head (let's hope she won't be as bullish as Face Chair) and Caro went for a lighter note in her horse's head cleverly made out of a cardboard box with a papier mache mane. Bibi asked to borrow it to pop in the chief Sicilian widow's bed after her demo experience!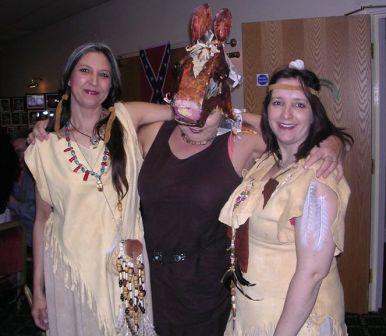 There was all the excitement of the Awards ceremony when we finally got to see who was in favour, and whether we agreed! (See individual articles on these!)Natasha Wood waltzed off with the Charles Fox Award, a popular decision, Natasha has been shining brightly at Face conferences for some time now, young as she is. Though Bibi looks like she's theiving those awards, she actually won them fair and square. What a star.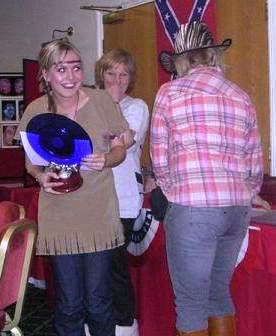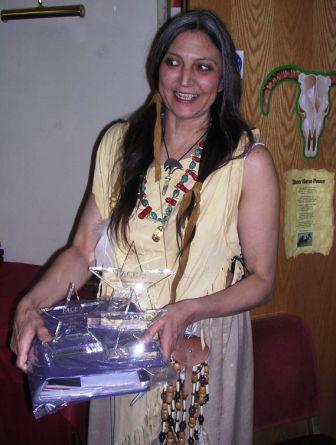 Sunday dawned as a gentler day full of demos by fellow Face members. Well, it's gentler for those watching, but not so easy for the watched! The Butterfly demo that had been planned for the afternoon by Caro, Glyn, Heather and Lorna had to be abandoned after we'd all been butterflied to death the day before! So it was decided that they could do whatever they wanted, and very interesting it was too!
It became apparent that they were all dreading the occasion, Caro didn't have a clue what to do, Heather came well prepared, but had been quaking with fear for 2 days, Lorna is a stalwart that will take almost anything on the chin and Glyn manages to be cheerful in the face of any adversity. Both Caro and Heather had a practice run which seemed to settle the nerves, but both were better than the live performance, those black widows are natural born killers! Heather very cleverly got Kat (renowned for her heckling ability) to be her model, but Kat's style of heckling is actually a welcome diuretic! Now all we need is to lace the ladies in widows' weeds refreshment tea with laxative.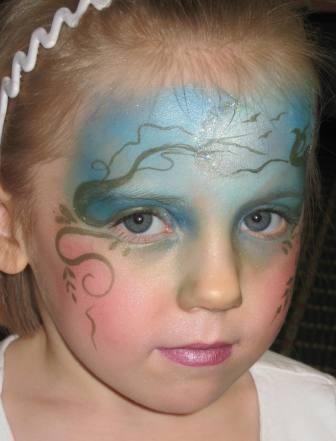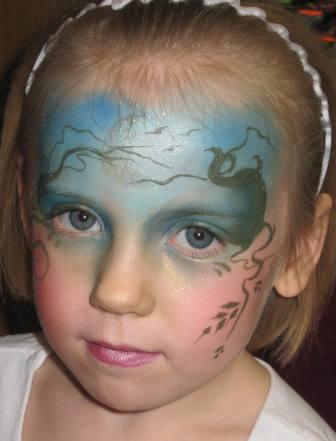 CARO'S TEST RUN ... AND THE REAL DEAL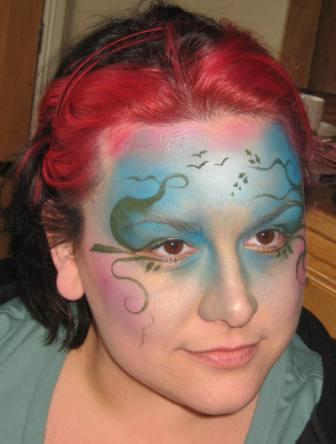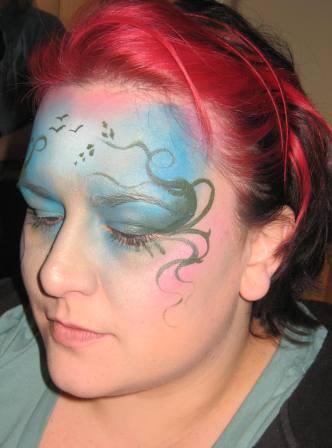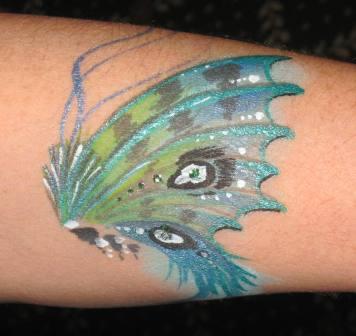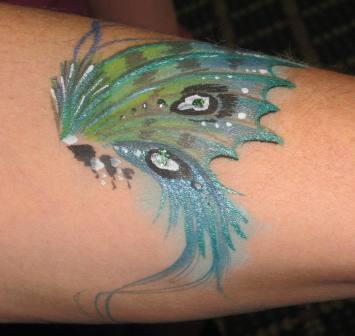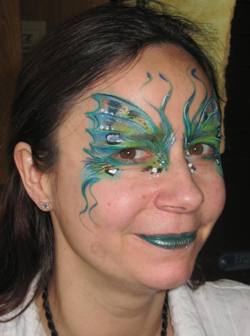 HEATHER'S PRACTICE RUN ON HER ARM AND THE KAT THAT GOT THE CREAM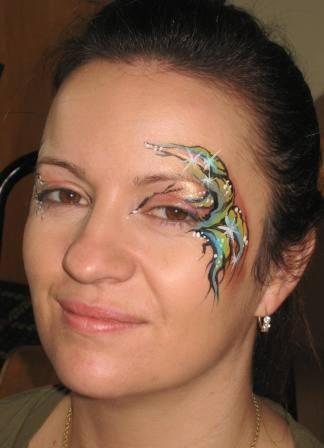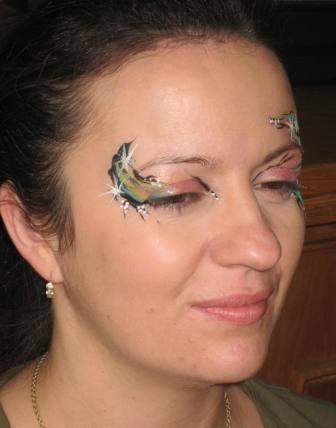 LORNA STRACHAN'S DISTINCTIVE WORK
We missed almost everything else as the proceedings wound down, as our remaining wares were safely packed and headed back to civilisation, chatting merrily about the best organised conference we had ever been to - well done to Debbie Woodley and Jackie O'Galligan for arranging everything so superbly, if ever they are foolish enough to stop painting, (they are both very good) another career surely beckons.