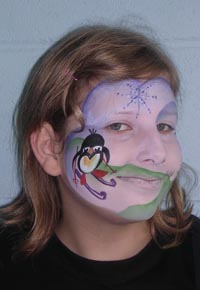 At least twenty four Face members and a dozen non-members eagerly gathered at the Meopham Leisure Centre on Friday 21st September to take part in The FACE SE Fun day hosted by Caro Childs and Liz Bylett. Performing arts students from the nearby school came in as volunteer models, and while three aspiring members took their Face certification tests, Margaret Lincoln kicked off the day with a demonstration of a snowy penguin scene.
.
.
We then had half an hour for shopping with Bibi, who had brought along an actual as opposed to virtual version of facepaint-uk.com's shop, complete with her wonderful boxes of rainbow paint.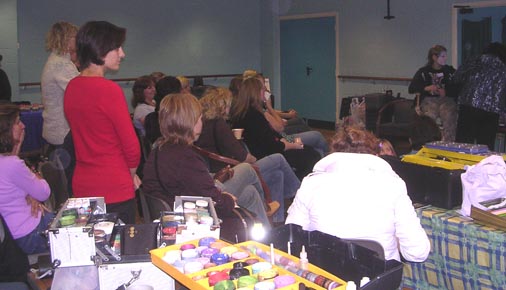 Caro was kept busy making teas and coffees and trying to stop Richard scoffing all the delicious cakes that Jayne Wilks had so generously brought. We had been promised another sixty children for everyone to enjoy painting so there was no excuse for anyone to hold back. The theme for the day was appropriately 'Autumn' and Caro had promised bottles of wine that she had brought back from France to the painters of the best Autumn faces. With so much lovely work going on that got very hard.
Liz demo'ed a lovely holly design and it looks as if Bibi approves.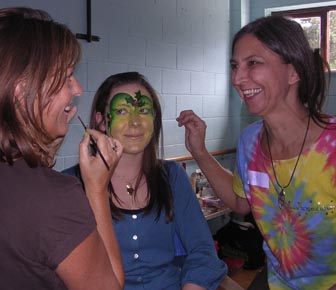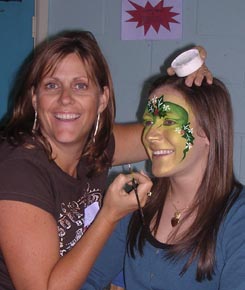 Here it is as Liz adds the finishing touches.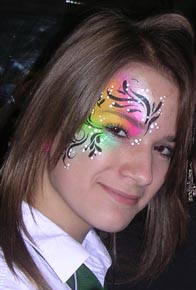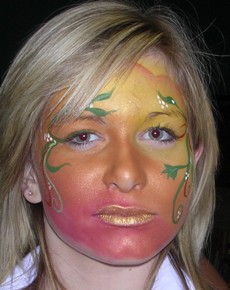 Becca Galbraith got very colourful, as did Jayne Wilks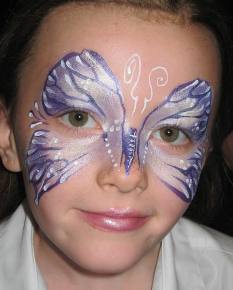 and someone painted a delicate lilac butterfly.
In the meantime Autumn faces were rapidly appearing throughout the room.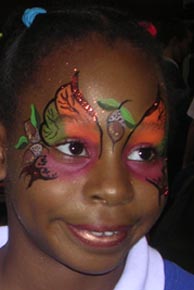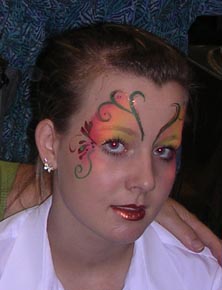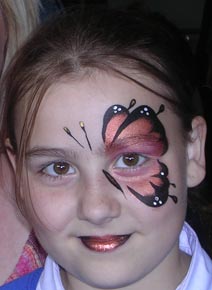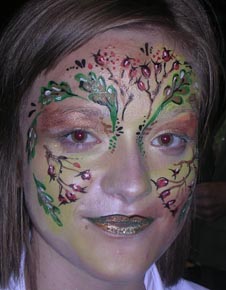 Carol Christian, Zoe Locke, and Jackie O'Galligan all gave their models the autumn butterfly treatment, Heather Sharp got a 'hippy' feeling and several cats prowled around!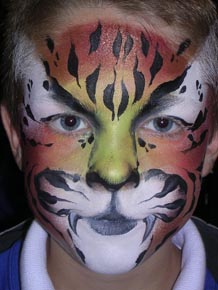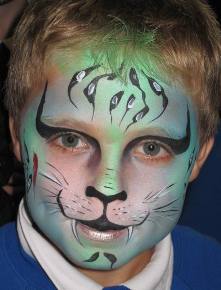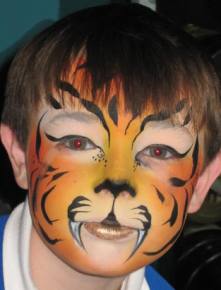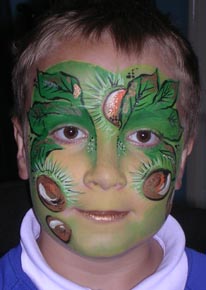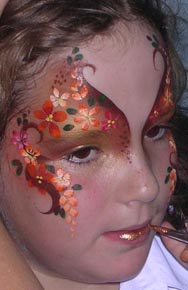 Heather Sharp took a bottle of wine home for her lovely hawthorn face and her chestnut design, and so did Jasmin Walsh for her beautiful flowers.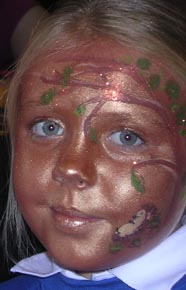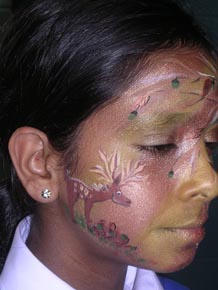 13 year old Brook is already proving herself with this cute hedgehog scene and her mum Donna tries to keep up with a stag and acorn scene,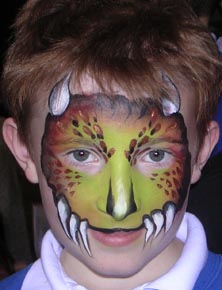 and Becca got monstrous in suitable colours!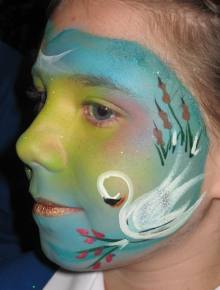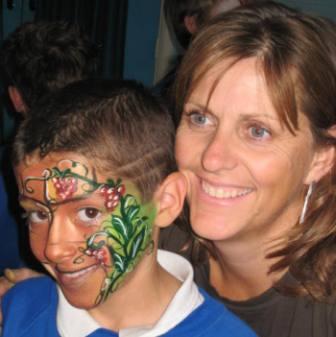 Tracy Greenman used some lovely colouring for her Swan Song and Liz Bylett gave us another Autumn delight with 'The Last of the Summer Wine'.
And finally Bibi showed us all how to do it with her stunning Autumn devil on a bonfire, as specifically suggested by her model!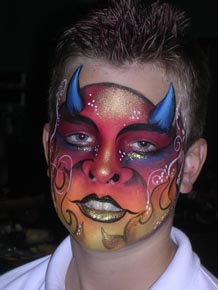 To cap it all we have a photo caption competition, just for fun. The first suggestion is 'Is that a pot of Rainbow Paint in your pocket, or are you just pleased to see us?' or secondly 'Is there any gold at the end of the Rainbow?' Send your ideas to us!