"Whenever I hear of a theme, I can't help but think about it, whether I intend to enter a competition or not! I had been asked to demonstrate a Western Princess at the conference and had no idea what was expected. The Wild West theme was a bit of a challenge as I have no positive interest in Cowboys, or the cruel invasion of North America, but anyone who has been to my house will know that I have an affinity for Indians! I have loads of books on the subject and there are Native American artefacts everywhere. My ex-partner had a shop that imported 'real' craft items and jewellery from a reservation, and quite a lot survived the relationship longer than the man. So I sat down with the books and trinkets and made loads of sketches of elements that interested me. I came across a small picture of a family being driven off their land, and it was so poignant I wanted to use it. I decided to make a scene, but it was difficult to incorporate all the ideas I had! There had been a beautiful picture on my wall for years of a Native American woman melding into a snow scene that inspired the forehead and I found another image in a book that had subtle animal forms in the smoke from a fire. I had a favourite necklace with a silver bear with heartline (the arrow) that I incorporated on the left side as it is seen as the family protector and symbolizes a strong heart, which I felt this family would need. The eagle is also often considered the protector, carrier of prayers, visions & spirits so I included this in the smoke in the sky. Of course feathers are also an important Indian symbol, and I've always seen them as representing freedom.
The other idea that emerged was more abstract and inspired by Native American bead and basket work, but I focused on the possibilities for placement of design elements on the face rather than a literal depiction.
ROUGH SKETCHES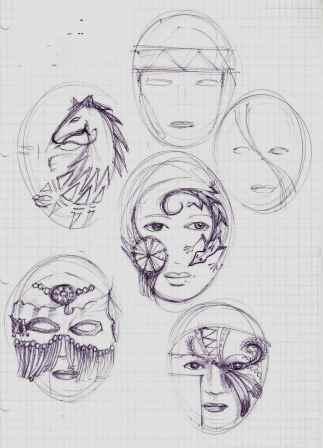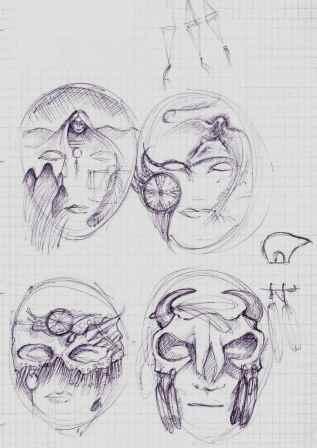 I realised by now that I really wanted to paint these designs. I had a collection of ideas, but no-one to paint them on! I mentioned it to my sons' girlfriends (both of whom are gorgeous, though of course they think not) every time I saw them, and finally managed to grab hold of them. It is a massive advantage to paint someone who is patient and will sit still, my own children never would! But these girls were a treat, so a huge thank you to fabulous Phoebe (Award) and angel Angie, who I call Boo! (Wild West). I also painted hunky Henry with the skull idea, but it didn't really come off for some reason. Perhaps I was all painted out.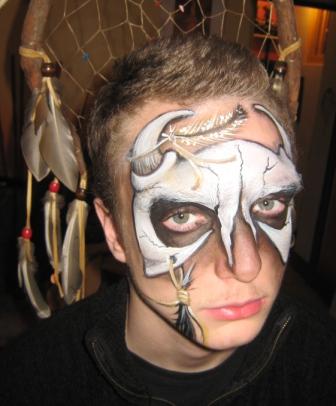 I took loads of photos, with my limited ability in that department I've learnt that this is the best way to get a good result. It wasn't quite 'there' so I got some costuming and feathers left over from when we did a film première for 'Spirit' where we all had to dress up, and finally got the images I wanted, (and my costume for the conference!) though looking at them later I was sorry to see that Angie's hair had fallen over the smoke. Why don't I notice these things at the time?! They were also taken with flash which is a shame as natural light is much better, but you can't always choose when to paint!
I couldn't decide which to enter for the Wild West competition, so I chose the scene for that, and the abstract one for the Award (another competition I'd not planned to enter) as it seemed more 'technically' proficient, and it would be a shame to waste such a good effort. I see that someone else had the same problem!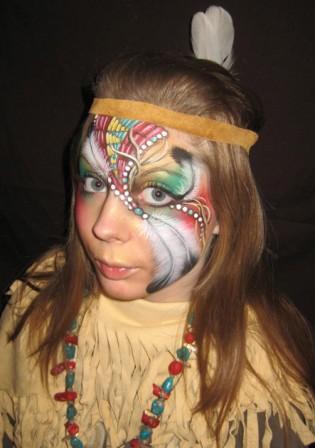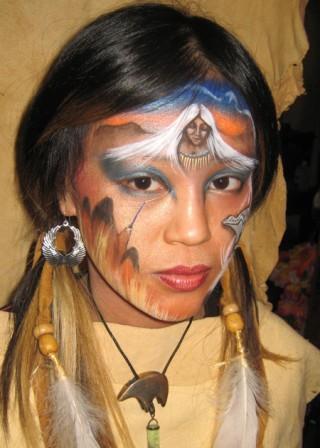 The girls were both really pleased with the results and so chuffed to have won, as was I of course!" Phoebe is now a talented budding painter herself having attended a couple of classes at The London School of Facepainting and has some really great fresh ideas, and the ability to apply them.
Bibi Freeman