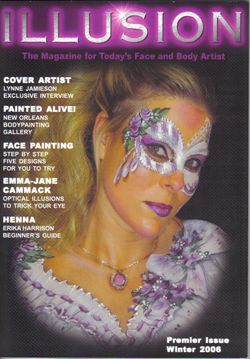 The premier issue is bound to become a collector's edition, the cover artist was 'The Wizard from Oz' Lynne Jamieson. SOLD OUT AND RE-ISSUED DUE TO POPULAR DEMAND!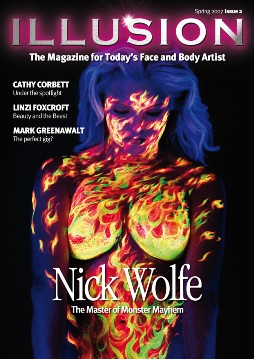 Issue 2 with a fiery cover by Nick Wolfe is still in stock, there is an interview with him, Mark Greenawalt, Cathy Corbett, Facepaint-UK's Linzi Foxcroft, Henna artist Riffat, beautiful fairy faces by Suzanne Mykolajenko, an article on pregnant belly painting and more so roll up and buy one, buy two, why not all of them?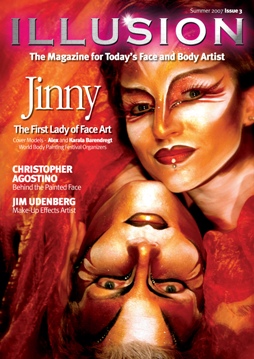 Issue 3 has lived up to expectations with art by and an interview with Cover Artist Jinny, an exploration into the FX world of Jim Udenberg, desings by Christina Davison and a feature on Christopher Agostino's unusual take on facepainting. There is also a timely interview with Carolyn Roper just before she went on the acheive first place in the World Bodypainting Awards.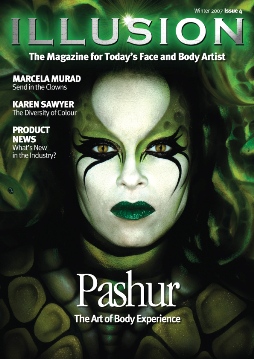 The 4th issue has a feature on Pashur with some images to die for, an interview with our own reigning UK and World Champion Facepainter Bibi Freeman, some interesting Step by Steps and a review of theWorld Bodypainting Festival and a feature on bodypainter Vargas, some unusual designs from Felisa Massey as well as an article on colour.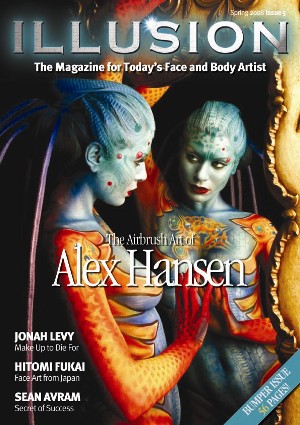 Issue 5 is a bumper issue of 56 pages featuring a cover from airbrush artist Alex Hansen, an inspiration to us all. Inside the magazine, there is an in depth interview with Alex and more never seen before images. There are 6 step by step face painting designs to try from artists including Kurt Drake, Cree Dykins, Tiana Tong and more.
An interview with special effects make up artist Jonah Levy gives a fascinating insight into the world of latex, while Japanese face painter Hitomi Fukai talks about the work that she is doing in Japan. Disney face painter Des, shows her unique style of painting and gives an insight into what it is like to paint in the American theme parks.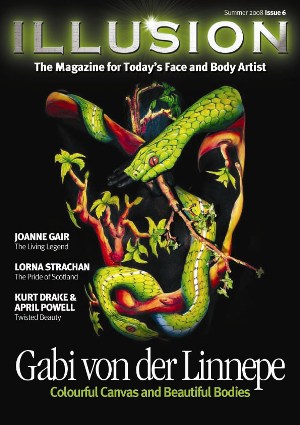 Issue 6 has another 56 page delight and features an interesting front cover from German artist Gabi von der Linnepe, plus a full illustrated interview inside.
There is a fascinating interview with Joanne Gair, the legendary body painter who painted Demi Moore for the cover of Vanity Fayre.
Step by Step Airbrush face art with Nick Wolfe.
7 Step by Step face painting designs
Review of the La Fete and FABAIC Conventions.
Features on Kurt Drake and April Powell, Gaelle Mouster and Yolana and Nicole Bartram - also Mardi Gras, Gestational Art and an 'Under the Spotlight' interview with Scottish artist Lorna Strachan. Last but not least we were very pleased to see a feature On Facepaint UK Member Michelle Withey.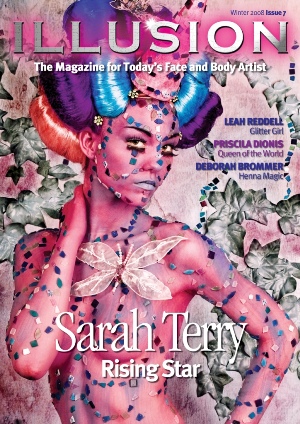 Issue 7 is packed with original artwork, including:• Exclusive interview with World Facepainting Champion, Priscila Dionis from Spain.
• Front cover created especially for Illusion by Welsh body artist Sarah Terry. Sarah tells Illusion all about her innovative style.
• 8 step-by-steps ranging from a face paint of flowers inspired by surfers to Mark Greenawalt's complex and impressive full-body gargoyle.
• Nick Wolfe's insider tips on airbrushing realistic flames and using UV paint.
• An insight into working on a music video by Emma Cammack. She explains how to keep eight dancers' faces painted for 12 hours during the shoot.
• Joanne Gair competition winners – first place winner Michaela Zeng's underwater painting is astonishing.
• Details of Illusion Fast Fun Faces – the latest step-by-step book from Illusion with 29 face paint designs by Julie and Claire.
• Amerikan Body Art's 2008 Glitter Girl – Leah Reddell.
• Reviews of the first Canadian Bodypainting Championship, the German Bodypainting Festival and a competitor's diary of the 11th World Bodypainting Festival.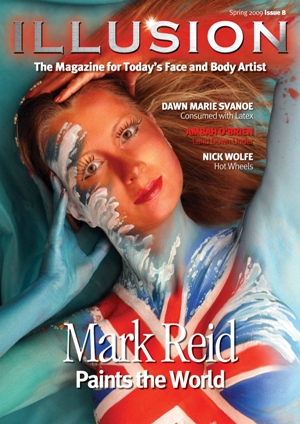 Issue 8 has a brilliant cover and 56 pages packed with original artwork including:
• Exclusive interview with Mark Reid from USA. Read about his innovative style and recent world tour.
• Regular contributor Nick Wolfe shares his tips and skills in the "must have" boy face painting design step-by-step for 2009.
• An insight into the unique style of Australian artist Ambah O'Brien. She explains how her style is achieved and shares an impressive never seen before gallery and step-by-step.
• Back by popular demand, Des Shupe shares an exclusive step-by-step design.
• Shaul Moalem, founder of the Make-Up Institute in Stockholm, Sweden. tells about his fascinating life and how he achieves success with his own product range.
• Dutch artist Syl Verberk shares her fascination of painting on twins.
• Informative business advice to assist you with all taxing issues.
• 11 step-by-steps designs to try.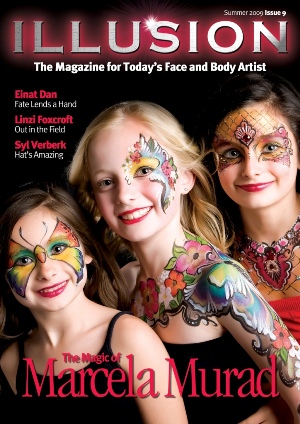 Issue 9
• An original front cover from Marcela Murad. Marcela gives her most frank interview ever, revealing the ups and downs of her amazing career.
• Ten step-by-steps from talented artists across the world. Hitomi Fukai, founder of the Japanese Facepainting Association shares her Funky Tribal Eyes while master painter Mark Reid illustrates how simple a Stinging Scorpion can be.
• The thought-provoking work of Linzi Foxcroft and her company Trauma FX as their special effects and casualty simulation help to make a real difference to the treatment of wounded in conflicts around the world.
• Stunning headpieces from Syl Verberk and instructions that show you just how easy they are to create.
• The story behind the Arty Brush Cakes
• Mark Greenawalt's first experiences of liquid latex and insider tips on how to use latex in body painting.
• Interview with Israel's Einat Dan that gives details of her label-laden fashion shoots in Milan.
• All the regular articles that you've come to expect from the Illusion team. In this issue's Get Technical Helen Eyre explains how to paint and create your own tribal designs while in The Art of Business Fionna Doney gives plenty of recession-busting ideas.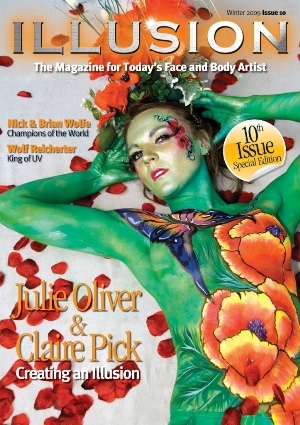 Issue 10 - Largest ever issue! • Front cover from Illusion Magazine's editors Julie Oliver and Claire Pick.• Nick and Brian Wolfe - share how they won this year's Brush and Sponge crown at the World Bodypainting Festival.
• Wolfe Reicherter - a master body painter from Germany, well known for his spectacular work with UV paint.
• Lone Wolf Kirkegaard - a unique artist from Denmark (also a student at London School of Facepainting!).
• TEN step-by-step designs, including face and body painting and painted jewellery ideas.
• An international flavour in this issue which features artists from: New Zealand, USA, Denmark, the Netherlands, Canada, Ecuador, South Africa and more.
• In this issue's Get Technical, Helen Eyre explains how to achieve blending while in The Art of Business, Fionna Doney gives advice on writing a business plan.
Issue 11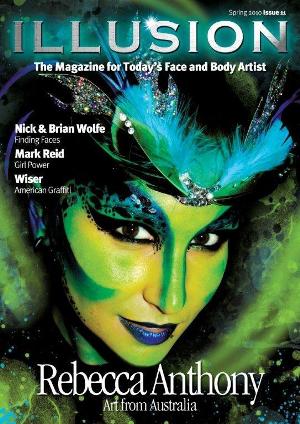 Cover artist Rebecca Anthony with her creativity and breathtaking brush work.
Illusion award-winner Ezia Leach - who has motivated so many artists.
Nick and Brian Wolfe share top tips on how they come up with new face painting designs.
Mark Reid demonstrates how he achieved "Girl Power" designs in his innovative step-by-steps.
A warm welcome back to former cover artist Pashur, who shares a beautiful step by step eye design.
Under the spotlight, Leroy Roper, an incredible back drop painter, body artist and photographer.
Plus all the regular articles that you've come to expect from the Illusion team.
In this issue's Get Technical, Helen Eyre explains how to achieve perfect symmetry while in The Art of Business Fionna Doney gives plenty of advice how to keep a client - good advice in the current economy.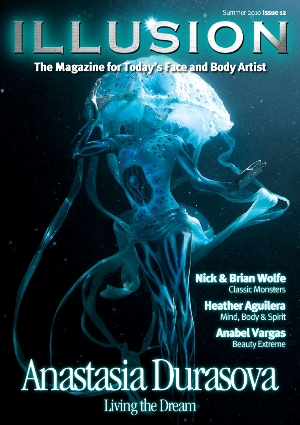 Issue 12

Cover artist Anastasia Durasova shares her fascinating life story in an exclusive interview. Look out for her amazing designs in this issue.
Classic Monsters by Nick and Brian Wolfe
Nick and Brian paint black and white designs inspired by classic movie monsters; face painting like you have never seen before.
Beauty Extreme Make-up artist Anabel Vargas shows us how she combines make-up and face painting with stunning results.
Heather Aguilera Combing her love of yoga with body art to create amazing designs.
Step-by-step face paint designs from:
Marcela Murad, Syl Verberk, Anita Rorije, Kate Dean and Kyla Morgan.
Plus featured artists including: Naomi Gay, Lymari and Kate Dean.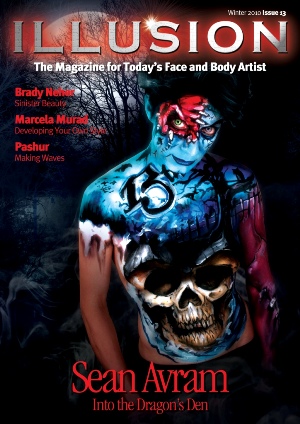 Issue 13
Cover artist Sean Avram talks about his obsession with dragons and shares specially created dragon designs as well as two stunning step-by-steps, including a brilliant dragon face as well as creating an original front and back cover.
Brady Neher shares his love for painting on dolls as well as humans! Causing shudders of horror from the Illusion team, this feature is a must for die-hard fantasy artists.
Nick Wolfe talks about his need for originality and his designs will certainly make you laugh.
Fans of one-stroke painting can read about Claire Howkins' journey. This new approach is challenging more traditional face painting techniques.
Pashur back from his workshop on the waves cruise tells about his passion for face painting and shares inspirational designs for us all to try.
12 step-by-step designs for you to add to your repertoire.