Reference LibraryWe have shelves and disks groaning with accumulated ideas for facepainting and product information. When you're groaning with frustration, let us know - a groan shared is a groan halved and the shelf gets a break too! Even if we don't know the best product to use, we will be fascinated to find out!
Please email your request for an image and we will send a jpeg image to your email address with notes if necessary for you to paint your own version. Pictures supplied from the library cannot be reproduced or published in any form without permission.
Describe the image you need in as much detail as possible eg "I am doing a Willy Wonka party can you suggest some images suitable for the five year old guests?"
It is quite important to state the approximate age of your models as some images are more complicated than a five year old can sit for, a solution for the same problem on a supermodel might require something more sophisticated. We regularly feature different images from the reference library, to whet your appetite.
THIS MONTH'S FEATURE: CHRISTMAS OF COURSE!
Hang on to your Santa Hats - here it comes! Are you ready? We hope so. In case you need a little help from your friends at Facepaint UK, here are some festive ideas.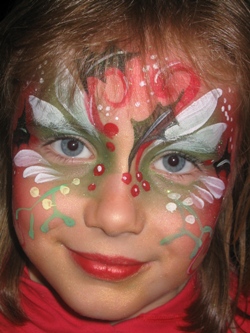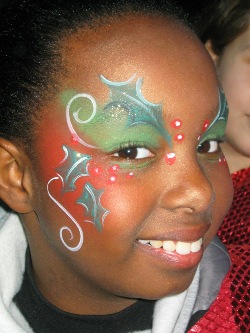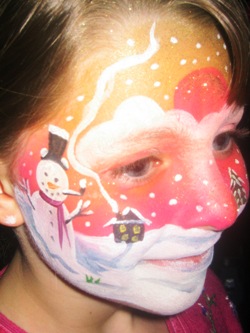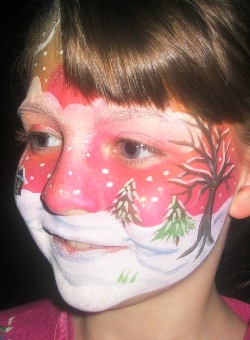 WINTER SCENE BY ELENA ESAU OF DESIGNER FACES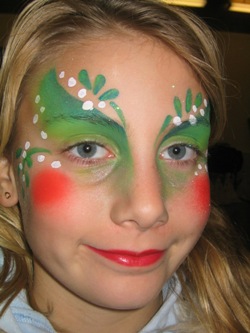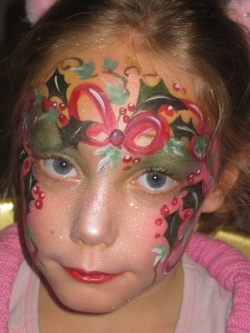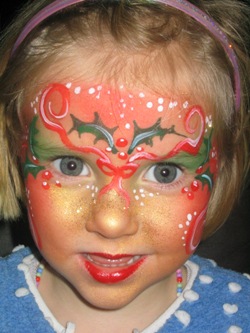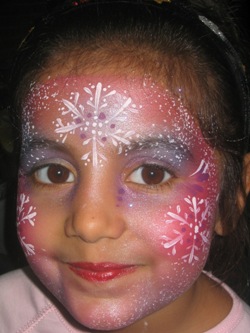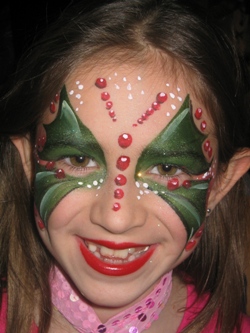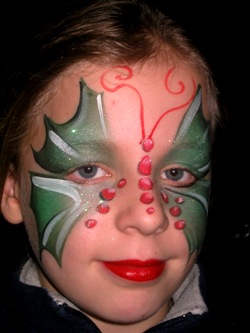 CHRISTMAS VERSIONS OF BUTTERFLIES!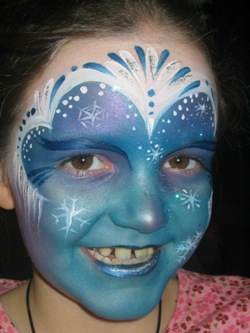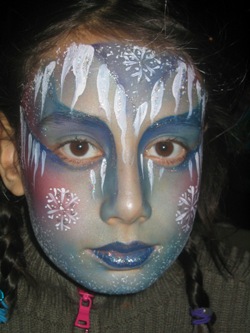 BRRR! BABY IT'S COLD OUTSIDE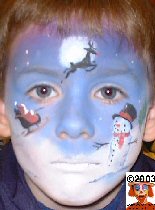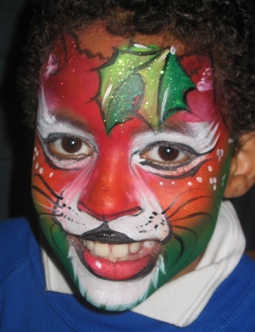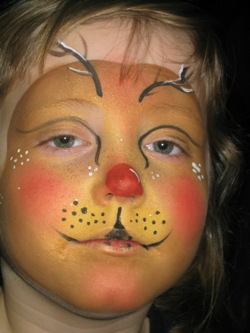 LOVELY SCENE BY LOUISE LEAR JONES COLOURFUL CAT BY RAPHAELLE FIELDHOUSE RUDOLPH BY THE LET'S FACE IT TEAM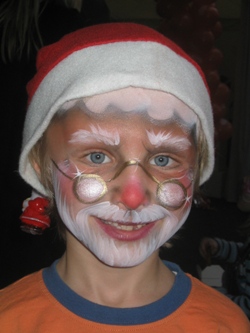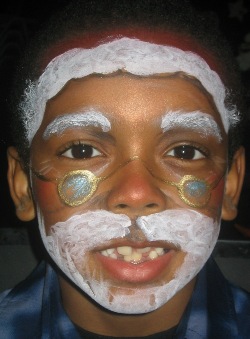 A RIGHT COUPLE OF SANTAS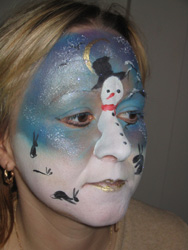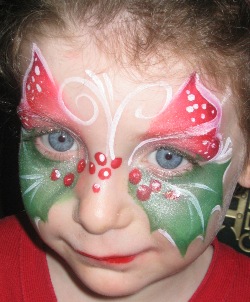 SNOW SCENE AT THE LONDON SCHOOL OF FACEPAINTING BY CARO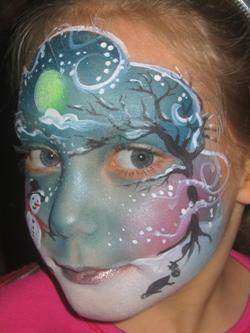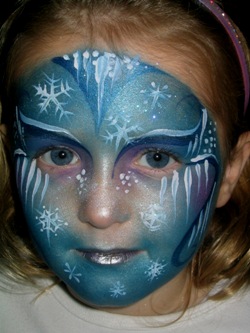 LET IT SNOW, LET IT SNOW, LET IT SNOW!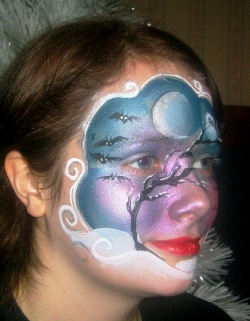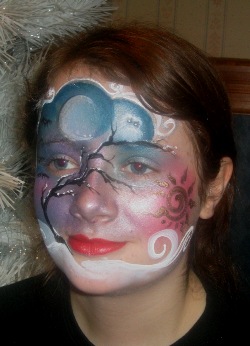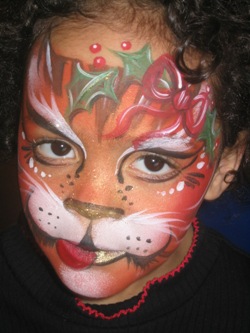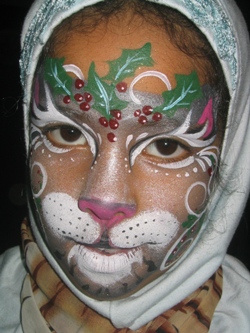 MORE CHRISTMAS CATS. PURRRREOW! BY BIBI AND LINDA IRENESCHILD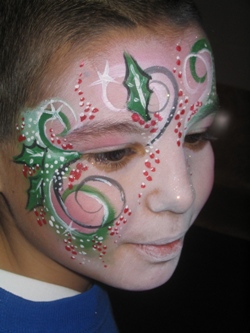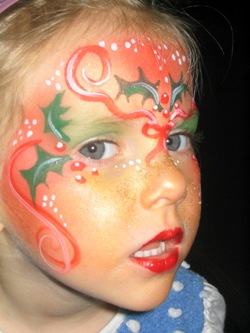 SEASONAL BEAUTIES BY SUSIE KENT...... AND BIBI. WHAT A TEAM!
LATE ADDITIONS TO THE CHRISTMAS BALL...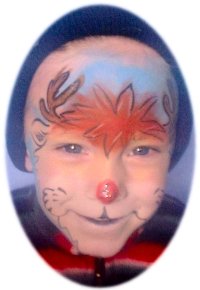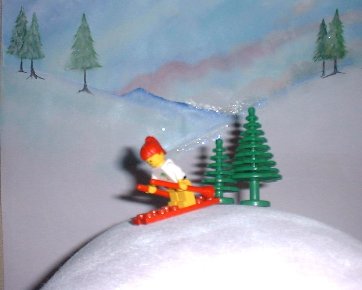 LOUISE LEAR JONES HAS FUN, SPOT THE BODY PART ... PREGNANT PAUSE FOR THOUGHT!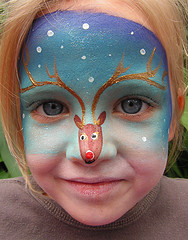 AND CATRIONA FINLAYSON BRINGS ONE OF SANTA'S LITTLE HELPERS TO HONG KONG!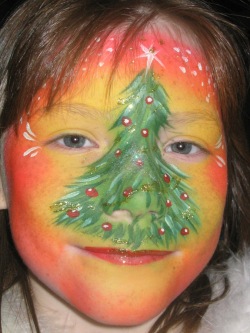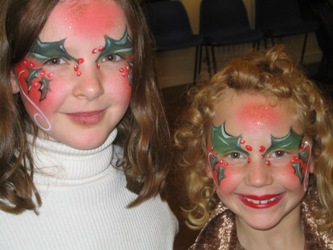 THE TRADITIONAL TREE AND FESTIVE FAIRIES TO FINISH US OFF!
WISHING YOU ALL PLENTY OF WORK AND A JOLLY GOOD REST!
MERRY CHRISTMAS