by Kerry September
I had first heard of Carolyn Cowan when I was starting out as a make up artist, and I just knew that one day in the future I would meet her. She is an entirely self taught make up artist, body painter & photographer. Her father was a fashion photographer but left when she was three. It's obviously in the genes.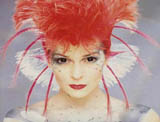 She has worked with the best Directors, Photographers and music artists in the world! Ridley Scott, Mario Testino, David Bowie, and Freddy Mercury. Inventive as ever she even used Caran D'Ache Pencils to paint Toyah's face on that infamous album cover. Carolyn now teaches the art of painting the body at The London College of Fashion and privately at home in small classes. She has just released a 'The Art of Illusion' on DVD. It is beautifully shot and fantastic for body painting enthusiasts.
Carolyn will be the first to tell you that people get a little scared by her but really, you can tell her anything! As I discovered when I went on Carolyn's 3 day body painting class at her home last summer.

It was a hot day. I pressed the doorbell, opened the gate and stepped into 'the secret garden'. From that moment on I almost felt like a child again. I was looked after, given a cuppa tea & biscuits, and sat in her garden while I got to meet the other students and we introduced ourselves to each other. It seemed like a magical escape from reality. Then the fun began around the teaching table, which eventually became covered in every type of paints, mediums & brushes you could imagine. Flying over our heads from one side of the room to the other were lots of budgies! An endearing distraction whilst drumming up ideas of 'what shall I paint?'

Carolyn showed us her portfolio which was very inspiring. During the next 3 days I learnt so much. You can tell Carolyn loves to teach, she has so much time & energy to give and I found the course so therapeutic - I would recommend it to anyone. Lunch is provided with good old home cooking, and your work is beautifully photographed on the last day.
When Face Paint uk asked me to interview Carolyn Cowan. I couldn't wait to meet her again. I decided to ask her about her life, her first love of photography and how we can all benefit from photographing our own work.

Q. How did you get to where you are today? Did you go to Art College?
A. I always did what I wanted to do in life. I failed my exams and so I couldn't go to Art College. I have always loved and been influenced by Salvador Dali, Magritte, Leonardo Da Vinci and Renaissance paintings.

Q. Obviously you are an artist but why did you choose to paint on the human body rather than on a 2D surface?
A. Because I have absolutely no imagination on paper, in fact I have never had an interest in it. I am more fascinated by the way light falls on a 3D object creating form.

Q. Do you remember the moment when you decided to start taking your own photos and why?
A. I was body painting on a job with a photographer who had no concept of what I was trying to do. 5 hours into the shoot he wanted to start shooting and I hadn't even finished painting. I thought the only way I was going to manifest my own imagination was if I took the pictures so it would look exactly as I wanted it.

Q. So after 20 years experience in fashion, advertising, music, what eventually gave you the confidence to show your photographs 16 years into your career?
A. The realisation that it wasn't going to get any more interesting working for other people. I've been taking pictures from the age of 19. It took me a long time to show the world what I loved doing most.

Q. How did you come to understand about lighting and what advice would you give to others wanting to take more professional pictures of their work?
A. Apart from my fascination with light I have worked with some of the best directors and photographers in the world. I was always watching and asking questions. When taking your own pictures decide what the mood is. If you are taking a picture of a face painted Witch, you may want it to look shadowy/contrasty. If you have painted a child as a tiger, you may want the light to be sweet and soft.

Q. Framing your photo is very important, do you think it is a good idea to use a tripod or is it restricting?
A. You should use a tripod for a daylight shot. A tripod slows you down, making you conscious of your framing.

Q. What are the key elements to remember before you press that button?
A. Check that the image is clean, in focus and that you like it!

Q. Do you have a preference for a film camera or a digital camera?
A. I use both. I shoot with a Hasselblad film camera and a digital Nikon camera.

Q. People have said that you have a way of making them feel relaxed, beautiful, amazing and strangely powerful when you are painting and photographing them? Which part of the process do you enjoy most?
A. I like working with an idea. Getting to the point where it is going to work. Sometimes I find the painting a little tiresome if I am halfway through a long process but I love taking the pictures, I love playing with light, I love the finished photos.

Q. When choosing your materials to paint with are there any which you would advise others to avoid?
A. Anything that hurts them obviously. Experiment responsibly, know your products.

Q. What are your favourite products?
A. Kryolan Aqua colours. I love M.A.C alcohol based airbrush solution, and a good set of brushes.

Q. And finally - Any particular saying or phrase that has stuck in your head throughout your career which has kept you going?
A. Pay attention to the detail! Trust and believe that you can do it.
You can buy Carolyns DVD 'The Art Of Illusion' Online from http://www.carolyncowan.co.uk/ where you can also see more of her wonderful, inspiring face and body painting.