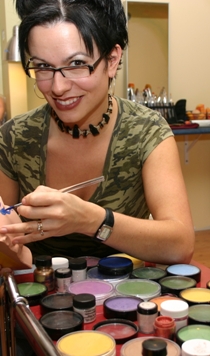 JINNY!
Jinny was influential in developing the line of Paradise Makeup AQ from Mehron, and is one of the most talented face and body painters in the world. Her unique style and creativity was featured in every issue of sadly defunct FABAI Magazine. Jinny holds the high honor of being a judge at the Body Painting Festival in Seeboden, Austria. Her talent has opened many doors including body painting at private events for the likes of Bono & Celine Dion and is the chief Make-up Artist for Cirque du Soleil Special Events. She is an excellent instructor who shares from the heart and never ceases to amaze us with her renditions of new and innovative designs.
Facepaint-uk had a stand at the UK Face Painting Convention in Telford right opposite Jinny's spot! We watched amazed for two days as she good naturedly painted what seemed like almost everybody at the convention! When she wasn't painting in the Trader's Room she was demonstrating on stage, Jinny was unstoppable! I know so many face painters who will only do it for money or grumble about being put upon, but if Jinny felt even a tiny bit like that, she certainly didn't let it show. She was endlessly good natured and charming and what's more she made everyone look so glamorous, in an over-the-top face painty way of course. It was a pleasure to watch. We were lucky to get an exclusive interview with Jinny, and some wonderful pictures of her art to illustrate it!
I did not feel too guilty when I asked Jinny if she would give me a few minutes to talk to me; I thought she might like a break from all that painting, but of course she kept on working even when she was talking to me.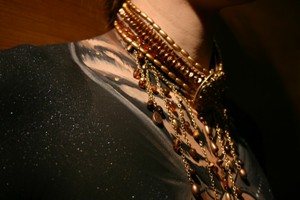 Jinny was over here to promote her latest DVD -"Jinny - Make-up Artist Volume 2 Creative Ideas" in Great Britain and she is already planning Volume 3. When I asked 'How do you go about planning your designs for a DVD?' she shyly admitted that she lets her assistant do the children's hair and she lets the kids choose their own accessories, and then just lets her natural creativity takes over when they sit in front of her. So, no real planning then, other than an awareness that her creativity responds best to new ideas and the inspiration that colour combinations evoke.
One thing Jinny did know was that the new DVD will be available in French obviously (as that is Jinny's first language), English and also German and Spanish. Talking to Jinny it became clear that one of her strongest motivations is her interest in teaching and communicating her art. Back home in Montreal Jinny runs classes for all levels at her studio. Right from the beginning of her career as a face and body artist Jinny has been involved in teaching as, after developing her skill as a facepainter 12 years ago while at art school, she trained a team of face painters for her husband's entertainment company.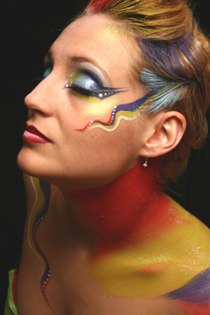 Jinny admits to feeling very honoured at being asked to demonstrate and teach her speciality at the major make up artists' show in Pasadena, Los Angeles. This is a show frequented by some of the top make-up artists from the film world but they are still keen to learn how Jinny does her amazing art. I asked her if she minded the idea of people copying her designs but she said, provided it was their own work she was flattered and she did not feel threatened in any way as she will have moved on. She is constantly searching for new ideas to excite her creativity and moving into new fields of design. Each design is fresh and appropriate to the person being painted, Jinny really creates on her toes!Another thrill for Jinny was when she was invited to paint the performers at a private party for Guy Laliberte, the owner of Cirque du Soleil, most of us have done the odd very special party, but painting for Guy Laliberte must have been both incredibly exciting and rather daunting because if any client understands extreme make-up he does!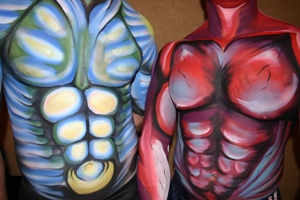 Now Jinny is regarded as an authority on face and body art, so much so that she is regularly asked to be a judge at events. Her one complaint was that she attends so many events but cannot participate, so she decided to travel to Austria to attend the world body painting championship. She was sure that outside of the American continent she would be able to enter the exciting atmosphere of competing alongside other artists, but shortly after arriving at her hotel the phone rang - and the competition organisers asked Jinny to be on the panel of the jury - they had heard she was in Austria! Jinny tells this as a wryly funny story, but it does illustrate the immensely high regard in which she is held.
It was a real pleasure to meet this artist in the flesh, we already knew Jinny by reputation partly through the brand of make-up which she has endorsed for Mehron, Paradise Face Paint. Jinny told me of her excitement when the owner of Mehron invited her for that ultimate high flying appointment, the breakfast meeting. Apparently Mehron had been looking for the right person for two years before they finally approached Jinny. Paradise paints are a great addition to our palette, and we love what Jinny can do with them. The colours are a departure from what we are used to seeing, especially the Tropical range, and the application is very opaque. We are particularly in love with Paradise black which is a real pleasure to use and actually paints black, a rare achievement amongst facepaint products.
Read our review of Jinny's DVD's Volume 1 and Volume 2 in The Mirror! This is Jinny season at Facepaint-uk, we have lots of new Paradise products coming in including the luscious new metallics and at last - PINK DETAILZ! We are so looking forward to meeting Jinny again at Telford this year...


JINNY HAS A LOVELY NEW WEBSITE!
TAKE A LOOK AROUND