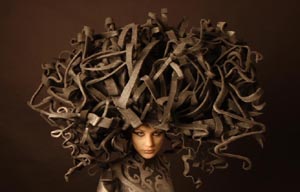 This article is from November 2006.

Not all facepainting is for kids and parties or even body painting for commercial promotions, there is a whole world out there of extreme make up that you may know nothing about. Facepaint-uk in the shape of Caro has boldly gone where not many women have gone before - And tracked down Neil Hughes - LRP make-up expert.
Neil's work is an exploration of identity and displacement; he mainly works producing characters for live events both corporate and private. His work has a heavy bias on Victorian gothic horror where fantastical creatures and monsters are created from the darker regions of the creators' subconscious and manifest themselves physically as a dark reflection, a 21st C modern parody of Jeckle and Hyde, Vampires, Devils, Frankenstein and apparitions.
What is LRP ?

LRP means Live Role Playing. The most popular LRP that some of you may have attended is probably a Murder Mystery Evening but it can be so much more. Whole weekends in an elaborately set dressed venue, such as a Castle, Country Manor or Marquees set in parkland are attended by paying customers who assume the role of a character for a set period of time, for the thrill of experiencing something different and taking part in a story or an adventure with a given objective to achieve. In short it's improvisational theatre where the guests are the actors, a sort of make believe for adults.
The term LRP covers such a broad range of contexts and settings from realistic and, historical to fantasy and sci-fi and across all time periods from Roman to Post Apocalyptic settings. All very exciting for the creative minds behind the project.
Neil explained, "If the LRP is an intimate lavish Victorian murder mystery evening with no expense spared then I might be hired to produce period hair and make-up, bloody wounds and if it had a supernatural aspect maybe a monster or two to make the guests jump.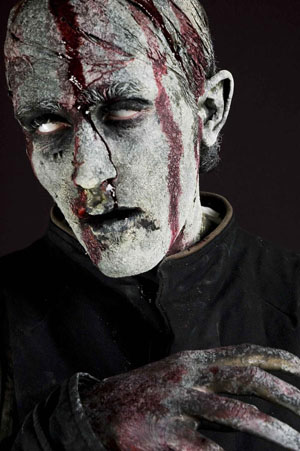 Some events are huge with 1000+ guests and they need to be run very much like a location shoot of a film production. The larger the LRP the more likely that the organizer will put in Non Player Characters who are essentially actors who know what is going to happen and who covertly monitor and "push" how the story unfolds.
Half the fun can be working out who is a guest and who is a non player character. Make-up artists such as myself are hired to make over these actors.
The other use of my services which is most relevant to face painters is to produce fantastical effects on actors to make them into creatures and strange beings where it is required in the setting. It might be an Alice in Wonderland LRP where a whole host of strange and exotic creatures would need to be provided.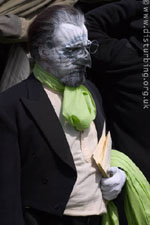 I would design, purchase the make up, teach and run the make up department for the non-player characters making them into fantastical Victorian bird men, hideous zombies, hoity 18thC lords and ladies or whatever was needed for the setting."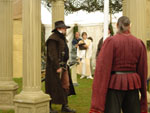 Is there a need for a make-up artist in LRP companies?
"There is a great demand for education and information on current products and techniques and it is in this area that a face painter would flourish. They could either trade to the guests or offer to companies without a make-up designer to make over the guests. The use of simple hard front prosthetics such as liquid latex slush cast prosthetics is the most common form of prosthetics used across LRP mainly because the cost involved in making over a large range of actors and guests in such a short space of time is prohibitive but also because no one is producing decent foam latex prosthetics in the UK to compete with the American market. This is also the reason that a face painters skills in LRP would be of benefit as a creative artist working with clever use of light, shade, texture and pattern can improve the look of any basic prosthetic and thereby add to the context and realism of the LRP world on a cheaper budget."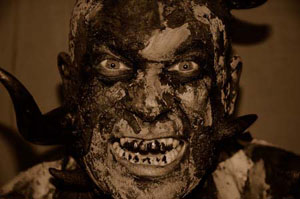 It all sounds fantastic good fun and an opportunity for face painters that has not been well explored, but Neil pointed out that there are a few flaws to working in LRP.
"The main problem is finding and locating a suitable professional company to work for; a lot of the companies are very amateur and will rarely hold the same standards as working in TV, Theatre or Film.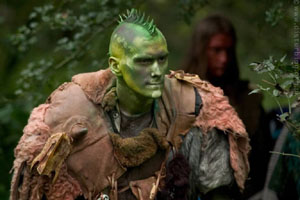 The events will always be on a location that will not have a fantastic make-up room and often a 'make do' attitude is needed. The sites can be very out of the way and being a social event they usually take place on a weekend and have early starts and very late finishes. It is expected that you will be available at the drop of a hat to be ready to make someone over without a time schedule. The industry is a very small one with most organizers knowing, or at least having a contact with another company, so a professional attitude is a must at all times, there are also very few professional companies actively recruiting a paid make-up designer's places."
That sounds a bit of a shame but you never know? What is the good side of working in LRP?
"The main benefit of working in LRP is the rewarding creative side of it where, as with face painting little kids, you will instantly get immediate response from your clients in a way that no other medium allows. The feedback can enable you to refine techniques very quickly rather than having to wait for rushes or screenings.
The intimate setting of the venues is something that is particularly attractive to me, I enjoy the fact that the audience of my work is in close proximity to my make-up. There is little "cheating" with clever lighting, photo manipulation etc. and this challenge when completed to a high standard is something very magical.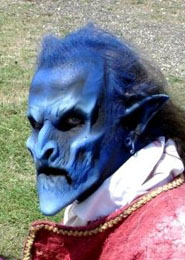 It is unlikely that any LRP or live event company will be able to hire a large range of designers so an artist usually has complete creative control of the projects that they are running and although this might be daunting for someone wishing to venture into this industry the creative satisfaction of realizing something from start to finish is very rewarding. The fact that people (guests and actors) are amateurs or hobbyists means that the likelihood is that you are the expert. They will have little or no previous experience of the make-up industry and so you are in a secure, confident place to hold your professional position."
Neil is also responsible for providing his services to numerous Theatre companies including The Royal Opera House, Saddlers Wells, Hackney Empire, Willesden Music Hall, and on the productions Five children and It (Feature Film), King Arthur (Feature Film), Lindsay Kemp's The Parade Gone By (Ballet). His most recent corporate work has been providing Vodafone, Smirnoff, MAC and cutting edge clubs with lavish body paintings and performance pieces to create memorable atmospheres. Have a look at his pages in Hot Shots, or contact Neil directly through his website gorgoncreations.com where there are lots more incredible images of his work. Look in links for some LRP addresses and forums if you want to get involved!