How Far Can You Go With the Ubiquitous Desert Island? by Caro Childs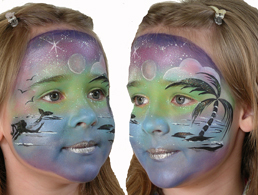 I still love doing Desert Island scenes, they are always popular and have a wow factor, but they can get a bit boring. OK we introduced dolphins and scrapped the shark and pirate ship, but that was about 15 years ago. It is certainly time for something new and what could be more appealing than a Mermaid?
I used a real variety of products when doing this design Grimas bright yellow 203 and Grimas sea green 402 Snazaroo Sparkle blue, Grimas dark blue 301, Grimas Pearl blue 730, Kryolan Aqua Colour purple, Grimas deep pink 508,and Grimas pearlised dark pink 753, Finally I used someI Snazaroo Irridescent powder in pale blue. Brush details were done with Paradise black and Paradise white. Grimas Polyglitter 04 and Graftobian black glitter were both used for finishing sparkle.
I mostly used a daVinci no6 Harbin Kolinsky brush, but I used a Grimas synthetic no2 for the white dots.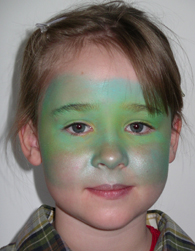 1. The beginning of a multi coloured blend across the centre of the face. I plan to do a night scene but I dont want the centre of the background to be too dark so I started with yellow, sea green and pearl blue.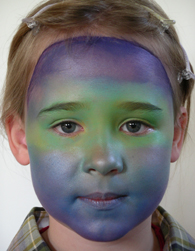 2. I defined the upper edge of the face with a broad brush stroke of purple and them blended it in using pearl blue and a little deep pink. The lower part of the face is achieved with dark blue, pearl blue, sparkle blue and a little purple. As always when blending I am patting so many colours together that it is hard to say exactly where they are placed, it is an ongoing process of building up the colour until I am satisfied.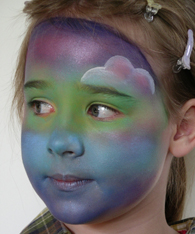 3. I outlined a cloud shape in white and sponged it out with deep pink. The blue across the cheeks and nose was created with Snazaroo iridescent powder because I noticed in the flash of the camera the beautiful pearl effect looked a little thin in the centre of my design.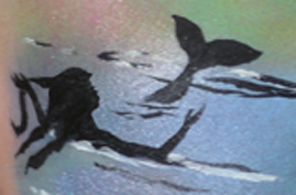 4. Now for the details, painted in Paradise black and using a Harbin Kolinsky No6 sable brush. I quickly painted a mermaids tail and a blob head and arms. Then using the tip of the brush I made the details of nose and mouth and her fingers. Lines in the water and birds help the design use the space effectively.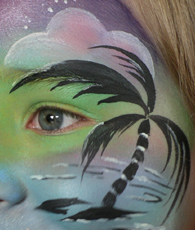 5. The other side has an island and tree. I try to make the tree full of movement. The moon is painted with pearlised white and a very little yellow. I used a square cut Grimas No8 sable brush which I pressed onto Beth's forehead and then swivelled round, this makes a perfect circle. I edged one side of the moon in white. Little white dots for stars and one bigger star give a mystical night sky.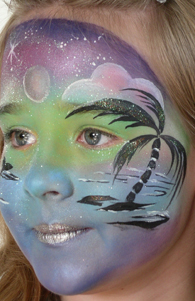 Oh and of course Grimas creme silver lipstick.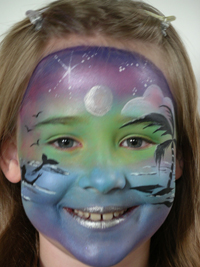 Well Beth looks happy.