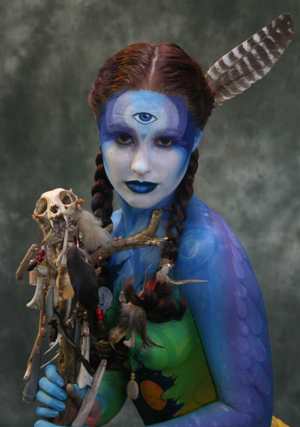 DOUBLE WORLD CHAMPION!
After their second win of the brush and sponge category of the World Bodypainting Championships in Seeboden, Austria last month, we have realised that it's long overdue that we honour Body Canvas, and especially Facepaint UK member Raphaelle Fieldhouse with an in-depth article in the Mirror.
Raphaelle Fieldhouse has achieved more than most of us in the small world of face and body painting, however she remains modest and committed to her art. As well as demonstrating for theatrical and fantasy make-up companies at events and shows, entering and winning competitions, like most of us she also still does small local parties for a local price. Her lucky clients probably have little idea that they are being painted by an internationally acclaimed artist. Of course she is naturally talented, but she has also dedicated herself to her art and has studied and trained in every aspect of Theatrical and Media make-up. Raphaelle is a prime example of what hard work and dedication can achieve. Gary is ever at her side as a fantastic support, and has picked up enough knowledge of painting skills to be able to contribute in a very real way. They are a formidable team!
Raphaelle was born and brought up in rural West Wales by her parents who run Snail Trail Handweavers. This was in the remote Preseli Mountains, very close to where Bibi comes from, there must be something rather special in the air up there! Having been surrounded by artists and craftspeople from a very early age, she was always very creative and went on to study art in school and college. Raphaelle has always loved make-up and had her first kit for her 9th birthday. She started practising body art at the age of 14, after having her face painted for the first time at The Garden Festival Wales by Caro! After a slow start with facepainting, she gradually improved her skills and regularly painted at her school coffee evenings, Scout fundraisers and local carnivals. What a proud moment it was for Caro when Raph emerged as a fully fledged face painter and admitted it was that experience at the Garden Festival all those years ago that had inspired her.
Both Raphaelle and her husband Gary work full time for their company Body Canvas and offer a whole range of entertainment and artistic services. In 2000 Raphaelle rather nervously joined FACE (The Face Painting Association) and has never looked back. She and Gary not only hosted a conference in Cardiff but also edited the Face Painting Association magazine in its glory years between 2001 and 2003. Thankfully, after a period of confusion Gary has recently volunteered his services as Editor again. We don't know where they get the energy!
In 2001 Raphaelle, whilst working as a face and body painter, returned to college to undertake a Theatrical & Media Make-up course, which covered all aspects of make-up and also introduced her to basic hairdressing and wig making. She also started a City & Guilds fashion course, which has enabled her to design and make her own clothes and costumes, which have proved essential to Gary's stilt walking performances.
Raphaelle is driven to continually improve herself and her standards, whether by attending courses or by pushing her own boundaries through competitive events. She was part of the college team who won the Welsh National Hairdressing Championships in 2002 and she also personally won the National Student Make-up Award in 2003. 2004 seems to have been Body Canvas' year as Raphaelle & Gary won both the Brussels International Festival of Fantastic Film bodypainting contest, and the World Bodypainting Championships in Austria. Then in 2005 they won the Maskerade Bodypainting competition in the Netherlands. They feel that competitions are a fantastic means of meeting other talented like-minded artists and of being inspired by other people's takes on some rather random and sometimes vast subjects.
I would have been disappointed, but Raph was thrilled to come second at the Maskerade festival this year, the design and painting were again fabulous, and as usual much hard work went into taking part. And after all, second is only one after first in someone's messed up opinion!
These are pictures of her interpretation of the given theme of 'Circus'. What wonderful colour combinations, something that Raph excels at is choice of colour as well as overall design and use of a body as a canvas!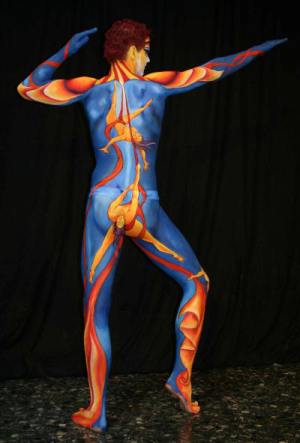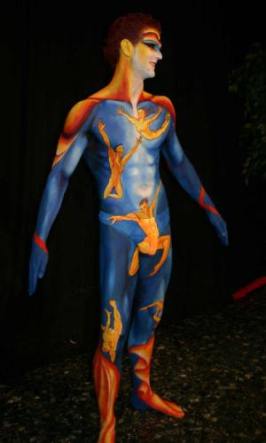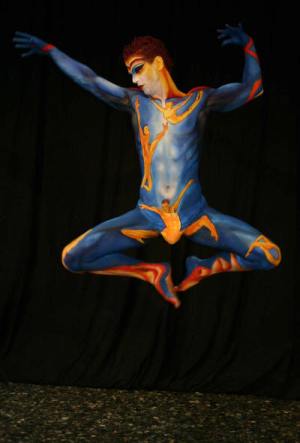 Raph has a great generosity of spirit, and has recently been teaching at the London School of Media Make-Up, demonstrating at Warpaint (the non-event!) and facilitated a Design Workshop for us at the London School of Facepainting. She almost immediately went on to contribute, with Gary's invaluable assistance, as instructors to the Face and Body Art International Convention in Orlando, USA in June 2006.
To top it all, Body Canvas came 1st in the brush and sponge competition at Seeboden this year. To be twice World Champions is a fantastic achievement, and proves (if it was ever in doubt) that the talent is abiding, and consistent. We are so proud of her and wish her every congratulation and well deserved future success possible! Part of the prize was 2000 Euros worth of Kryolan products, we can't wait to see what she does with all that paint!
ALL PICTURES COPYRIGHT BODY CANVAS 2006
The competition at Seeboden is tough. For those of you that don't know, there are the 2 rounds, and you have to qualify in the first - with one given theme, to participate in the second - with a different theme, and these themes can be very bizarre. This year the first was 'History of Art' and the second ' Transport - Move It! So 2 body paint designs have to be prepared, knowing that the most important one may never get painted in Austria if you don't qualify. The judges are of course looking for artistic merit, but interpretation is just as important too. If you are serious about competing (and Body Canvas is!) these have to be practiced in advance and honed down to ensure that they can be painted in the time allowed.
This is Raph's interpretation for the History of Art topic. She chose to draw on Byzantine inspiration, which acheived her qualification for the finals: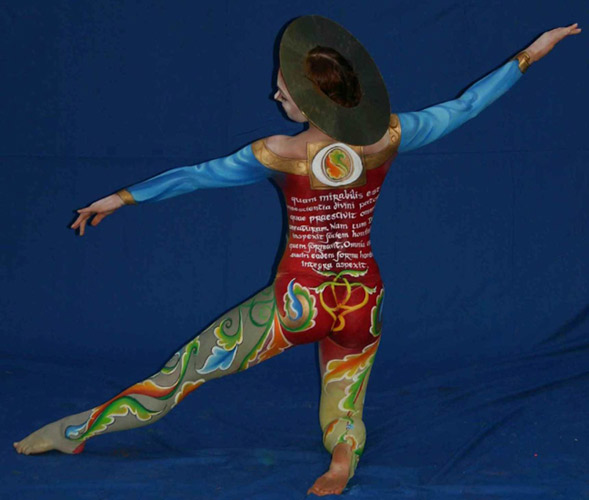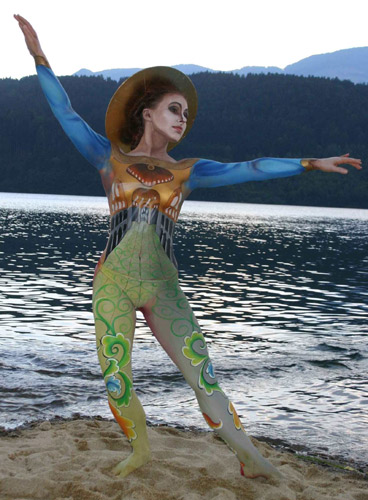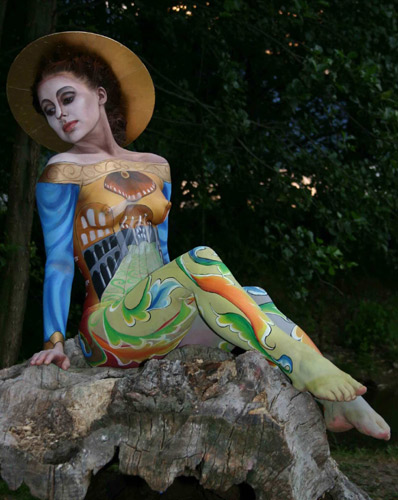 ALL PICTURES COPYRIGHT BODY CANVAS 2006
And these pictures are of her Transport theme, she stayed away from the temptation to draw on physical transport, and went for an interpretation of spiritual astral travelling and shamanistic influences.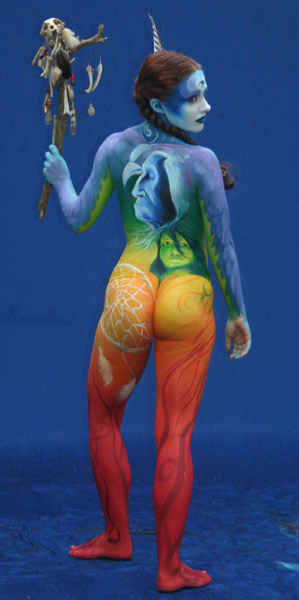 The weather conditions this year were a challenge in themselves. Models and painters were passing out with the extreme heat, cooped up in airless competition tents and of course painting on sweaty, wet bodies is not ideal. Then, on the last day the heavens opened with a thunderstorm almost as spectacular as the painting! Central Europe can certainly be like that!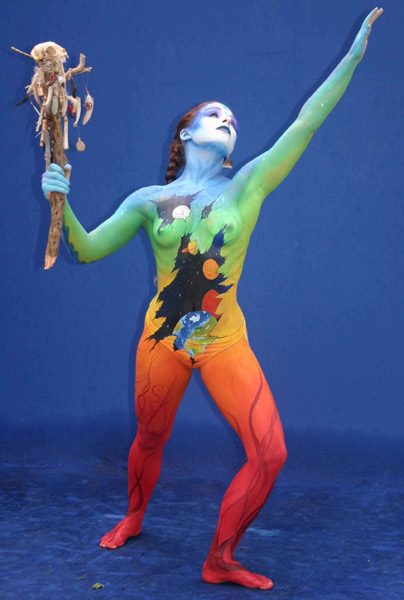 We hear that the parties are worth going for in themselves, and, as party animals, are tempted! Gary gave his all on stilts atop a precarious castle tower at the pre-festival party, where everyone is seriously encouraged to dress up. A Facepaint UK customer had a wonderful time, and was surprised to come 1st in the Fancy Dress competition, we shall honour his wishes and be discreet, and he shall remain nameless!!!!
There has been much talk of the possibility of a UK Bodypainting Festival, that really would be interesting, of course the moment it becomes a reality we will be letting you, gentle reader, know all about it! The traditional weather problems would be different here, but as it gets globally warmer, maybe we can guarantee an outdoor event! It's just such a shame that this summer-time of climactic kindness is also such a busy time of year for all of us who need to earn a living! Seeboden has other attractions such as music and performance events that support the unbelievably huge audiences arriving; one does wonder how much interest there would be for a purely 'artistic' event dedicated to what is, after all, a minority interest. These discussions have also re-opened talk of a British Body Painting Association, and there is a forum just started at atfreeforum.com/bbpato assess interest.
There are ample photo galleries and information on World Bodypainting Festival's past, present and future at bodypainting-festival.com. We are privileged to have permission to show you the winning designs from the World Bodypainting Championships 2006 in detail, to see some more wonderful examples of their work you can visit Raphaelle & Gary's website at bodycanvas.co.uk