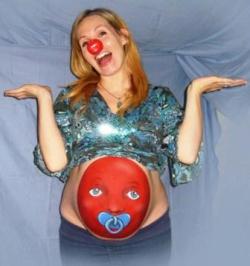 Blimey this took off!
Due to a surge in interest in 'bump painting' after Erica Norman painted a quick but lovely one for BBC Wales, and it went WORLDWIDE, a group of painters decided it would be a great thing to capitalise on all the publicity to support Red Nose Day 2009. So Samantha Gray bravely set up the group on the Red Nose website and before long there were 21 members and bumps being offered to eager painters all over the country.
The theme this year is 'do something funny for money' so after being inspired by some of Christine Mavromatis' s wacky ideas Bibi decided to paint a huge red face in line with this year's noses, but to make it a baby, complete with a great big dummy! Let's hope the little one isn't forever red faced with embarrassment!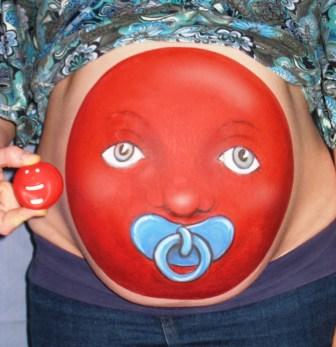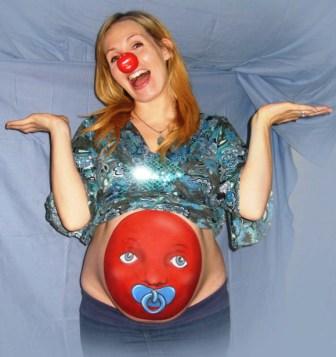 Incredibly, it seems that Bibi was the first to paint on Sarah Chitty's very round belly! Sarah's baby is due shortly, and we wish her the very best with that! She was the perfect model; pretty, patient and prepared to heave herself into the bath for the photos!
It seemed a shame to waste a good tummy, so Bibi planned a prettier work of art based on one of her fondly recalled childhood books, The Water Babies. The central image was taken from one of Jessie Willcox Smith's famous illustrations, with the fairies that looked after Tom the Chimney Sweep during his underwater adventures.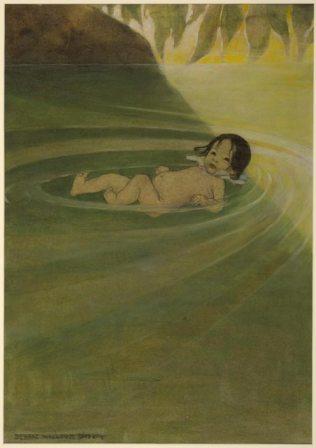 So here are the pictures in all their glory, bigger than can fit on the Red Nose site and Facepaint UK is happy to add any others from the team as it progresses with the effort. Please send your images to us here. And don't forget to spend a penny or two at the Red Nose Day website, Bibi's page is here, and doing very well!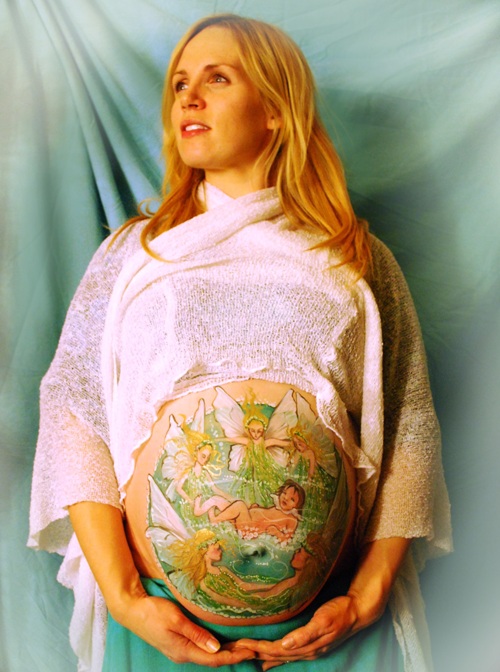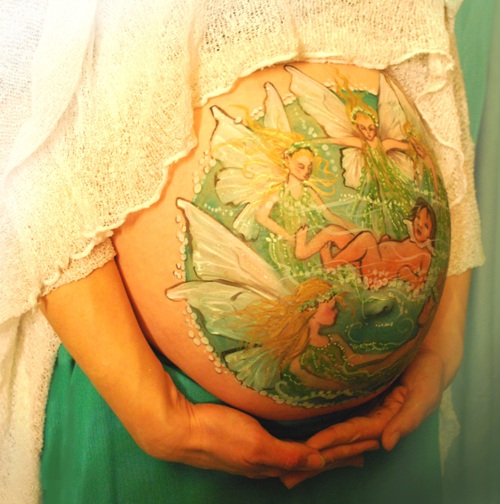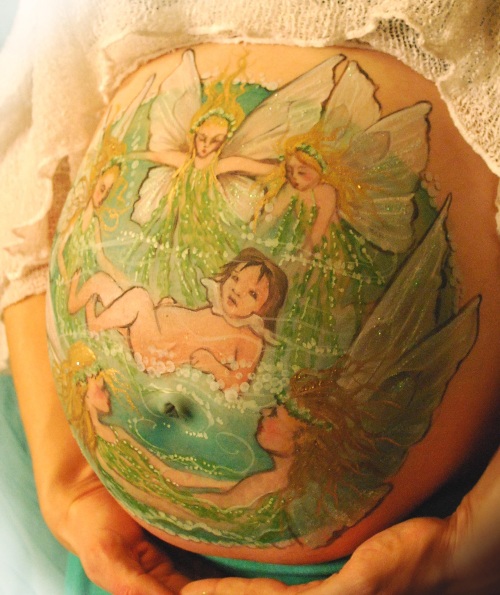 Thanks again to Sarah (aka Sarah Sunshine - a fab children's entertainer and facepainter) for incredible stillness and patience and again, good luck with the impending birth, will it be a Water Baby we wonder?
Technical details (!)
The red face took about 1/2 an hour to do, and the Water Babies about 2 hours. However there was about a day in the research and planning, sketching both designs first, and collecting reference. Sarah was very happy that the design included five fairies as the number 5 is special for her, and Bibi was happy that the old psychic powers are not diminished. The paints used were pretty much all Grimas, the red is 505 with a bit of 504 for the shading, the turquoise water is 401/402, fairy wings were done in Grimas white (which has its uses despite being more transparent than we would like) with the white bubbles and details in Diamond FX. It was fixed with Kryolan Fixier Spray and lasted through to the next day. Sponges - Bibi Wedges of course, Brushes - Paradise Body Chisel for the outside of the red, Paradise Medium round for the wings (Bibi's favourite wing brush), the odd Nova No.6 for filling in, Seaweed fairy dresses a Nova short round No.4. And finally - the famous Grimas S2 for the details and a sponge Dotter for the bubbles. All available at Facepaint UK naturally (except the Dotter which is currently out of stock).