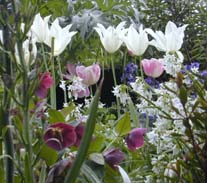 This column is in danger of sounding like Gardner's World with seemingly pointless tasks in the potting shed, but even creative types like you and me can do with a bit of discipline and a clear out once a year, and now is the time. There is not much work about, the days are damp and dull, you have eaten your valentine chocolates, and rather than watching another DVD, even one of Jinny's, it's time to Spring Clean. Relax! I don't mean your house - I mean your Face Painting business.
Now is the time to get your accounts up to date. The end of the financial year for many people is at the beginning of April but that's also when we all start getting busy again, so use this quiet time to get your books straight. Collate all those bits of paper chronologically and match up all your invoices, receipts and expenses so that this year you will have no problem filing your tax return on time or even early! That way the Inland Revenue can do the calculations for you, it's cheaper than having an accountant, and you will be adding another skill to your growing list of achievements. Chase outstanding payments (and pay what you owe) so that you start the new season with the old one well behind you.
Not all facepainters start off as sooperdooper business high flyers, but if you are working professionally you are probably doing all the jobs that a big business would employ teams of experts to do for them. You are your own: - Advertising Executive, Copy Writer, Graphic Designer, Promotion Agency, Office Manager, Debt Collector, PA and Secretary not to mention Chef, Dinner Lady, Cleaner, Nanny oh, and nearly forgot, the guy who goes out and does the job! Sorry, I didn't mean to make you collapse with exhaustion, I just meant that you are all truly brilliant - keep up the good work.
We all know about keeping our kit clean and hygienic, you and your customers will appreciate fresh sponges and a new container to keep them in. Check your brushes are not past their best, do they still have the bounce they once had? The visual appeal of your set up is an important tool in the battle to win clients. All the other aspects of the way you present your business can get a bit tired looking too. If you're using Grimas, are you using the stacking system? It's a godsend for setting up (and getting away), and keeps your work area impressively tidy. Make sure your display/portfolio is up to date with good pictures of your best work. However you display your work, pictures can get grubby and dog-eared from all your touchy feely punters, and you may have forgotten to update it. We all improve, so keeping new pictures on show is good for business. That grrreat tiger you snapped so proudly in October won't get chosen if you don't offer it, and you'll be stuck with that tired old tigger for another year.
Give your table and chairs a long hard look. A new table cloth will sort out the paint stains and maybe a quick trip to Ikea or similar for some cheap and cheerful, light to carry new chairs. Is your "furniture" breaking your back before you've begun?! Perhaps you should invest in a set of wheels, a bit like granny's shopping trolley!
Have a think about your business cards and promotion techniques; make sure you have a plentiful supply of cards that look professional and are still accurate; your best advertisement is yourself at work! Check your contact details are clearly visible, minimalism can go too far, tiny grey print is hard to read.
Now that you're with us, tell people where to find your information online. Local people using the postcode search will find you first. Create a waterproof holder to keep your cards/publicity clean and dry, this can be as simple as a ziplock bag, or your own invention! Leave them out on the table, more people will take them while waiting than dare to interrupt your creative flow to ask for them!
Checkout ways of networking with other face painters. Broaden your horizons by making friends! Team up with someone in your area for double the work opportunities, people often want more than one painter, and it's much more fun as a team.
If all else fails run your own event in conjunction with a local charity, they will welcome all contributions. Ask your local school, community centre or church hall for a few hours' use of their space for a good cause. They may even want to help.Stick up some posters advertising free facepainting, get the scouts or the WI to help with teas and a cake stall, get volunteers to run a jumble or any other stall, face paint everyone that stands still and get the press involved to come and support you. If they can't be there, write it up yourself and send it to all the local papers with photographs, some one is bound to run with it. You will have some wonderful publicity and helped a deserving cause in the process.
And remember, the sun is still there behind those grey clouds!