There was an impressive roster of lecturers this year (us included of course) and I'm sure everyone was looking forward to picking up some special secrets from the amazing Lynne Jamieson, the wizard from Oz!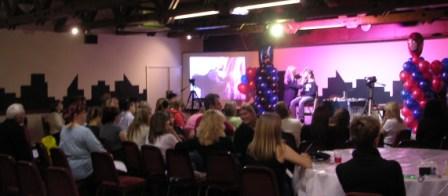 This is Lynne Jamieson's class 'The Shadow of a Bat' and this was the sort of thing that came out of it! It's a game of spot the bat!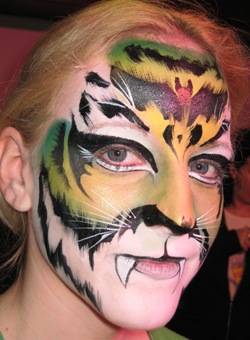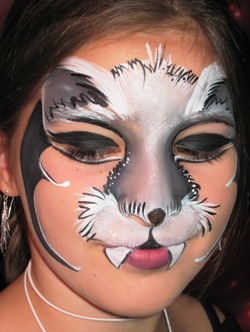 Jinny was almost unrecognisable in her natural dark hair colour, and impressed as ever with her beautiful style.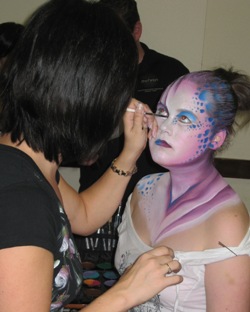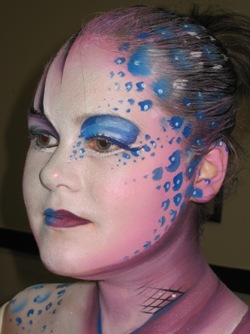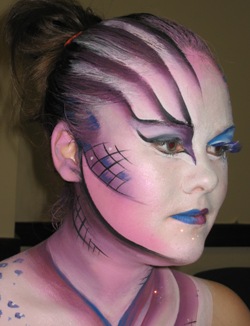 Rosey excelled herself with not only hosting a busy convention, but showing off some very pretty designs of her own, how does she do it?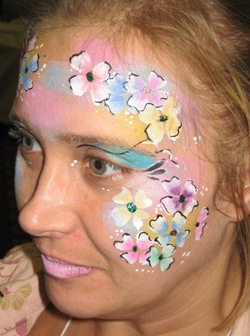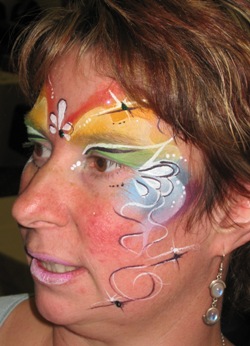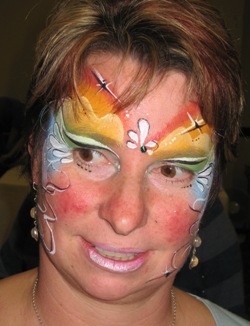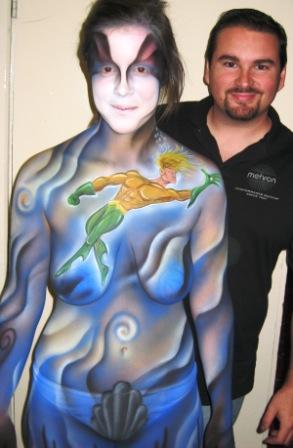 There was male representation too in the shape of Pashur, it was difficult not to look at him as much as his phenomenal airbrush artworks. There was major representation of bodypainting this year with Raphaelle Fieldhouse, Pashur and Lynne completing truly impressive body paints each day in their individual styles. How relevant this is to facepainters is yet to be established, there's not that much work available on the bodypainting scene, and it really isn't facepainting on a larger scale, as many seem to think. Emma Cammack also made a day trip with her family to demonstrate her famous "Illusion" (as seen on the bodypainting calendar) for Illusion magazine which was launched at Telford, both are now available here.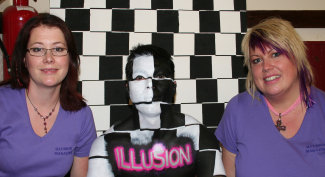 Our American and Canadian friends were much in evidence, as well as face painters -some fabulous wild hair pieces (here she is, shopping with us) and some impressive latex nipple shields (for body painting of course) which were almost prosthetics and barely noticeable. One of the models said it felt very weird to be so shapely but nippleless!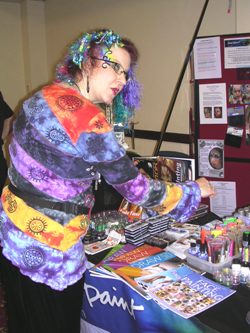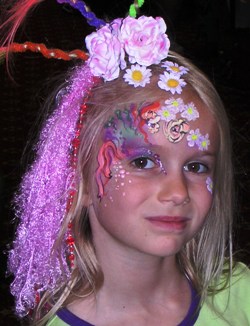 We weren't able to go to any of the lectures, and had to save ourselves for Lynne and Jinny's private classes on Monday that we'd booked into. We could see fabulous paintings coming out all day to whet our appetite, and make us envious, but the 'between lecture' buying frenzy was on....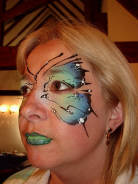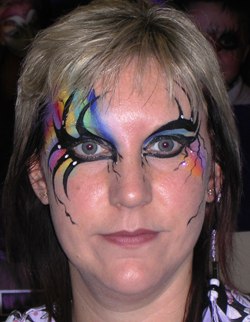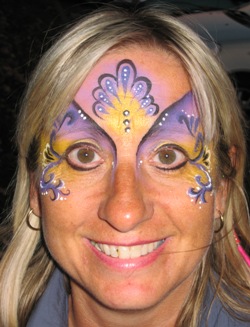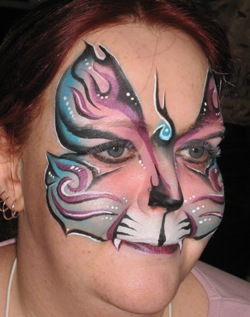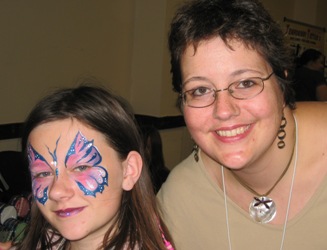 BOTH BY HELEN EYRE (PICTURED) WE THINK
The competition display was impressive, as always a great way to contemplate the best work on offer. Our favourite was a lovely Spidergirl design, but we're not sure if this was recognised, nor do we know who painted it, as all the submissions were anonymous! Surely this dragon is by Shannon?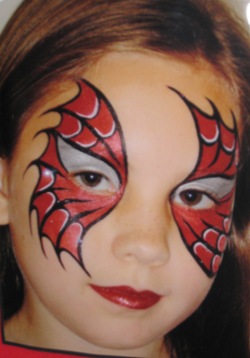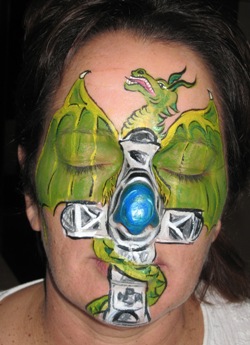 Our sample London School of Facepainting class on Saturday was well attended, and everyone did really well. So many people complimented us on what they'd learned, it was reassuring to know that we can even impart skills and techniques to professional painters that we ourselves respect. We keep saying that you never stop learning, and everyone has something to pass on, and it's true! These were our demonstartion faces by Caro on Paula Southern, and Bibi on Tracy Foster: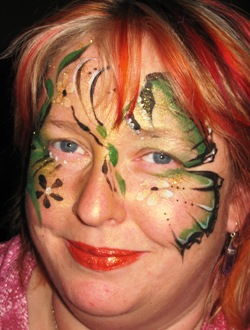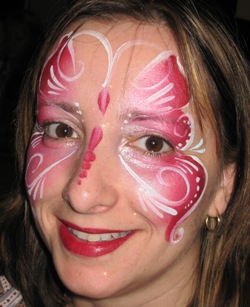 You really have to be there to experience what it's like to be surrounded and immersed in paint and painting, and more. There was a good representation of airbrushing this year, with Pashur and traders inviting us to get to grips with the gun! Pashur truly is a master of the art, so often taken as a shortcut to an effect that doesn't quite come off, he shows us what really can be done if you take it seriously, and was very generous with his time and equipment at the jam on Sunday night. Our dearest Tracy Foster had a go, and seemed to get on well with the technique, and indeed with Pashur himself!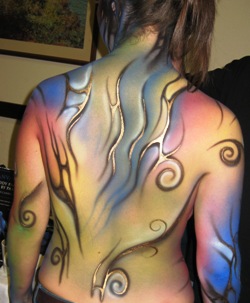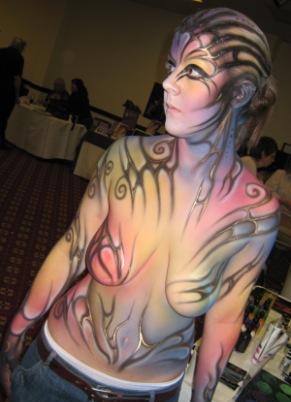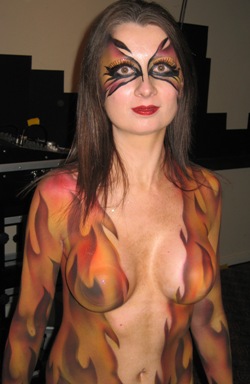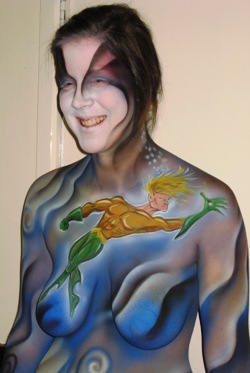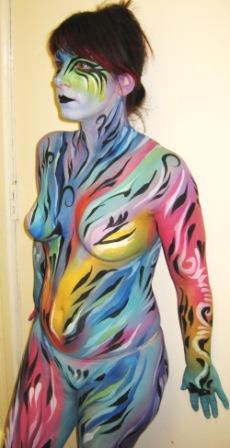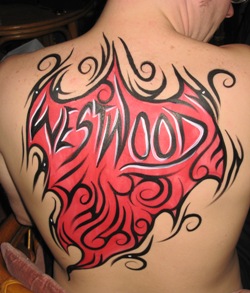 Westwood (above, not airbrushed) was for the hotel's bar manager. Pashur took pity on the poor fellow on Sunday night, he had been approaching everyone for days clutching a computer printout, wanting his favourite band's logo emblazoned on his back to test out whether he wanted a real tattoo! It did mean that we got to see Pashur's skill with a normal brush, and brush up on some tribal designs.
But we haven't told you about the party! The theme was superheroes, not the easiest for a bunch of slightly ageing women! Well some of us anyway. However, many rose to the challenge womanfully, we think Anne Arden has to take at least a tin crown for turning out as Supertramp complete with brown skiddies! Much to the interest and "hounding"of Paul "Chuddy" Chuckles who just had to take a sniff. Sandra Crofts was an impressive Cruella de Ville with an equally Menacing friend!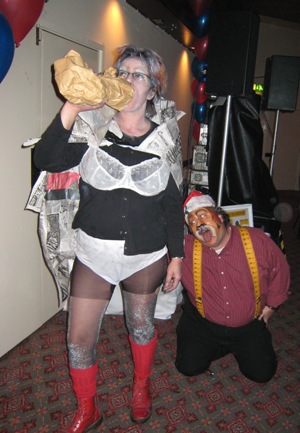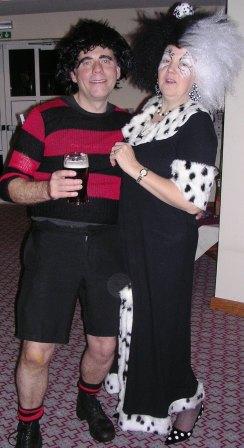 Another clever interpretation was by Kate Cudmore, who put a bunch of bananas to good use, presumably as Bananawoman. A special place in Bibi's heart for her, as she actually got married dressed as a banana. Yes it's true. Gary Fieldhouse got into the spirit of the banana thing too as you can see. Naughty Gary. Watch out or that mean soldier's gonna get you!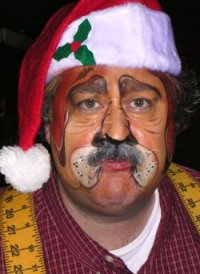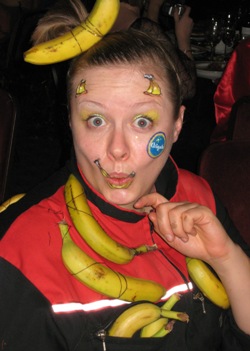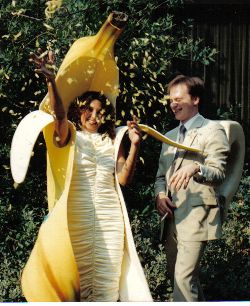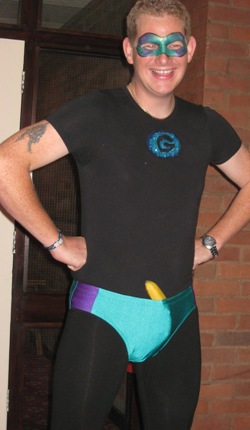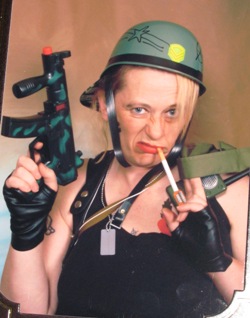 Rosey looked absolutely fabulous as Poison Ivy, and Lauren (from our Grimas suppliers A&A Studios) made a very fetching pirate. Aussie Kat Ramsey had no worries, as usual, and it was good to see her with her lovely husband.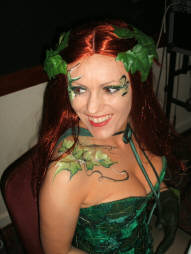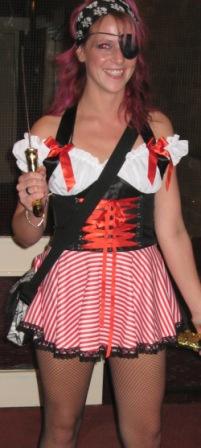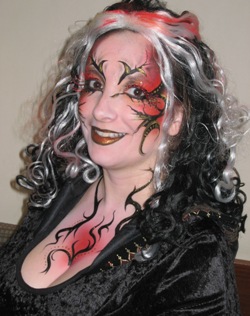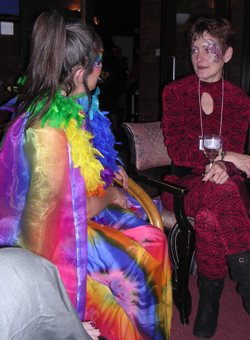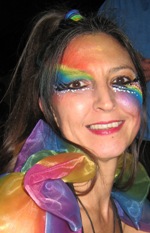 Tracy managed to get painted by Bibi as a Goth Witch and was met with many a Gosh! After much deliberation, we chose Linzi Foxcroft as the painter of the best party make-up and she was duly awarded with her prizes over and over again as she also won the Painter of the Year competition as well! See our article on her for photos. As parties go it was a goodun, Bibi, as a Rainbow Worrier (in celebration of her Rainbow Paint and Rainbow Faces Convention) took up a challenge to swing from the rafters, proving that the drink was flowing rather freely.
So when we all staggered out on Sunday morning, as usual there were some regrets.
The news of Julie Oliver's collapse and subsequent hospitalisation and cholesystectomy sobered us all up pretty quickly and there was huge sympathy for Julie and all the Illusion team who had been enjoying a great reception for the first edition of their new magazine. There was an impromptu whip round for Julie and she was undoubtedly cheered up by the visit from her family and the huge bear which was sent from the convention. Happily, Julie is fully recovered now.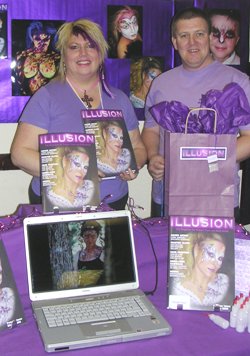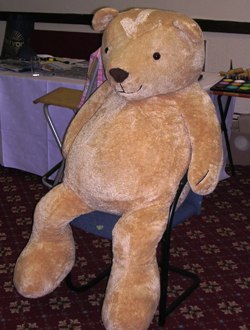 Lynne's morning session got most people moving , and her "Elegance of a Spider" class at 9am was a precursor to her beautiful body paint effected later in the day. It's so refreshing to see new ideas, even arachnophobes must have been converted. And somehow a butterfly or two flew in!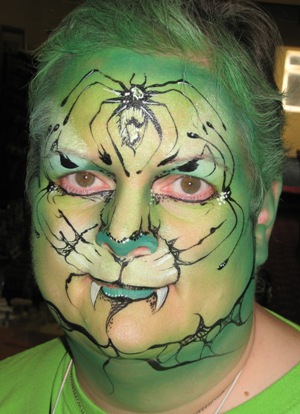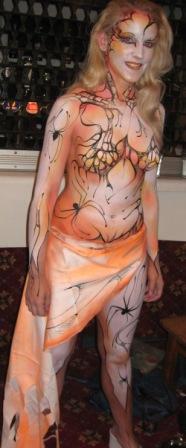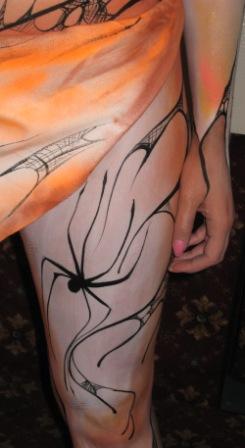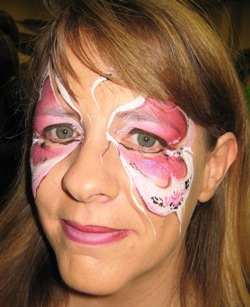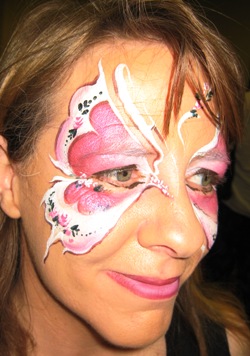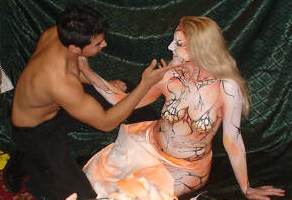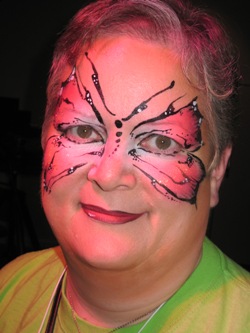 The third day of stifling heat was draining. The whole area was kept at high (and dry) temperature from consideration for the models being body painted, who were in a central space of the convention. No-one seemed able to turn the thermostat down, even in the evening, so cracked lips and dehydration were the norm by now! We'd not thought to take summer clothes, and even a funky new facepaint-uk t-shirt was too much. Still, any excuse for a drink! However, these photos of the wealth of talented work show what it was all about. Raph painted the ever tolerant Ruth Ardern, and painted and painted....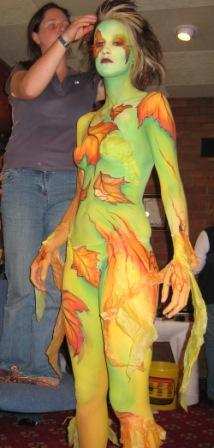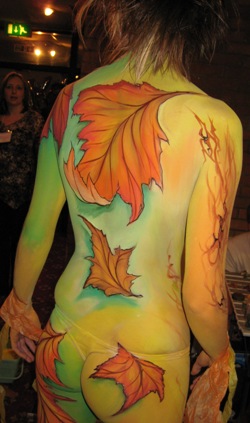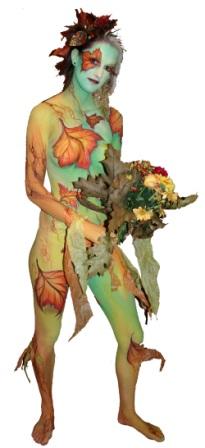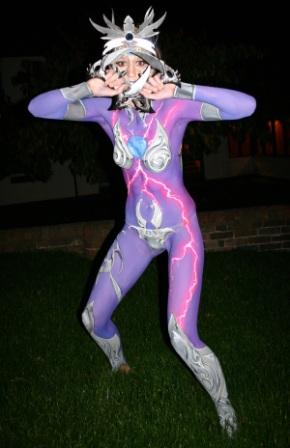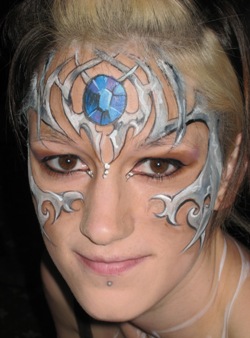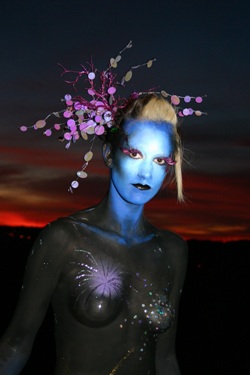 What a hardworking and talented lady. The fireworks design was stunning in real life, a real sparkler!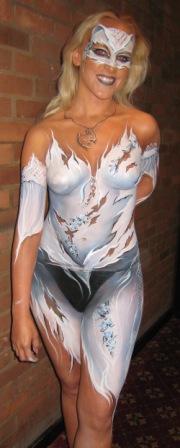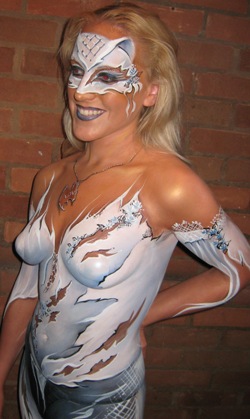 And this was Lynne's delicious Friday night offering for openers.
The intense heat seemed to bring out the Dragons! Shannon Fennell was demonstrating to the theme in the lecture hall, and the fantastic new facepaint-uk tribal tattoos had inspired Bibi to have a go at translating one of them into a face paint design. An offer of giving the new ProFace practice face a test run was taken up, it seemed to work, so Bibi went on to apply it to the lovely Lauren from A&A Studios. As it was a brand new design, it was reassuring to work out the placement and colouring first, but of course plastic is never quite like the real thing! Lauren was pleased with her new face (that matched her hair), and there can never be enough dragon designs for girls and boys, and this one is simply stunning!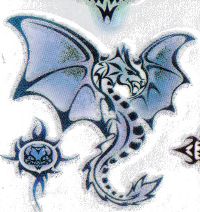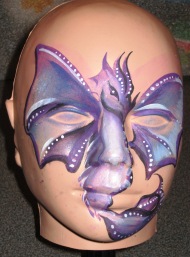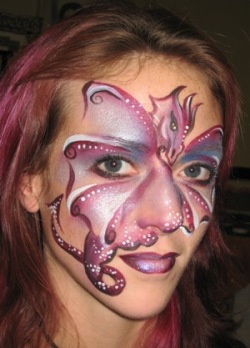 ORIGINAL TATTOO PRACTICED INTO DESIGN!
And Shannon's were lovely too: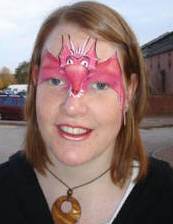 We do believe that one of the reasons for the success of "Rosie's Convention" (which is how we all think of it) is the lack of our normal customers - namely children! Delegates' children are warmly welcomed, and the cost is not prohibitive, but with no live competitions there is no necessity to organise hundreds of children, and so there is less work for the organisers, less competitive stress for everyone and generally a more relaxed atmosphere. Gradually the day wore to an end, and tired but happy facepainters were packing up to go home and to start saving up for next years convention. Our heads were spinning, and spiralling out of control, much like our T shirts!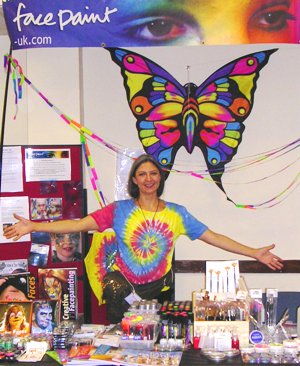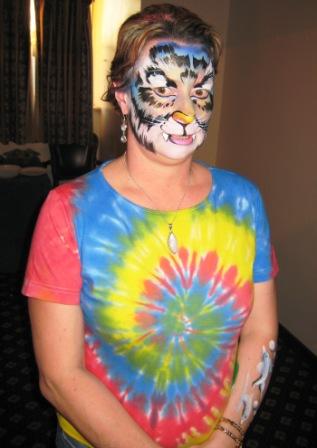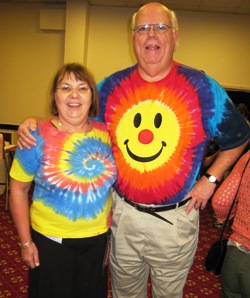 Of course we (and many others) stayed on for the post-convention classes on Monday, ... but that's another story!