I know this sounds like it might have been a table top sale of preserves by the WI, but it wasn't! So what is a Jam? It's just a get together of people with a common interest, in this case facepainters of course, and it can be a handful at someone's house over coffee, or a full blown event in a hall like this one. It takes a lot of organisation and commitment, and I for one don't envy anyone that takes it on! Claire Guest and Sam Phillips did just that. A lot of Jams are run out of the goodness of people's hearts, and these two certainly have their place in heaven booked!
It all started with Claire Guest's father being taken seriously ill with a brain haemorrhage. Fortunately he recovered well thanks to the care of staff at Royal Surrey County Hospital. Claire was so grateful that she wanted to raise some funds for the ward and set about organising a Jam with her mate Sam Phillips. The numbers wanting to come built. so a larger hall was booked and there was no looking back! In the end, there were about 50 painters who enjoyed the day immensely.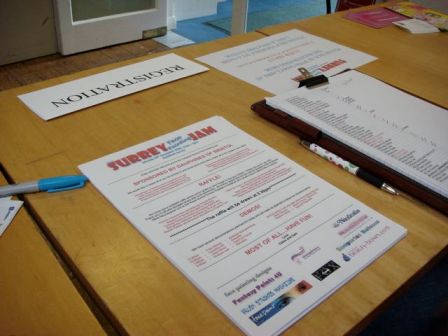 Claire answered some searching questions for us, and anyone else who might consider doing something similar in their area! With the high cost (and subsequent demise in these hard times) of more formal gatherings we are pleased to see alternatives on offer that are organised by painters for each other's benefit rather than commercial gain. Sisters (and brothers) are doing it for themselves. Way to go!
We know you wanted to raise funds for the hospital, but why a jam?
Sam and I had the idea to have the jam earlier in the year as we thought there would be a gap after the sad closure of Three Kings. We were just in the early stages of organising it when my father was taken so ill. It then seemed the natural thing to choose the Royal Surrey County Hospital as our charity for the fundraising element especially as both Sam and I were working together on a job when it all happened.
Did you find it stressful, and would you do it again?
Stressful? No! Hard work? Yes!!! Enjoyable - hell yes!!!! But most of all - hugely rewarding to see so many of our friends and colleagues coming together and having a fun day out! We would be honoured to do it all again and have already had numerous requests to do so and lots of offers of support from retailers and facepainters alike. Where else in business do you find competitors all coming together under one roof to share ideas; experience and expertise - it really is quite unique.
How did you get such brilliant Raffle prizes?
We were delighted with the support we got for the raffle. Much of it took little effort on our behalf and was simply thanks to the generosity of all our friends in the facepainting world; yourselves; Illusion Magazine; Fantasy Paints 4 U; Sempertex Balloons; Charles Fox; Brushstrokes Magazine; Face Painting Designs and of course, Dauphines. We were also incredibly grateful to www.beautyboxes.com and www.nauticalia.com who were amazingly generous by donating the pink mobile kit box and the high director's chair with personalised canvases. We did contact numerous companies in the preceding months with requests for support and received many polite notes of declination; but we just kept asking until we found companies willing to support us. Hopefully we have also helped them generate increased interest and awareness from our industry.
Everyone really enjoyed it, and commented on how great the atmosphere was. Do you have any ideas why it was so successful (apart from being brilliantly organised!)
Why was is so successful? The million dollar question!!! And we're delighted you think it was! No one simple answer - other than Sam and I being control freaks and having lists for everything!!!! In my opinion it was a combination of several factors - a great turn out from a retail perspective so we all had a great opportunity to kit ourselves out for the year ahead; proactive communication - we tried to get the word out to as many people as possible by using Facebook; www.facepaintingchat.co.uk; word of mouth and also sending emails to Face members we knew weren't registered on these two forums; a constant stream of checklists (!!!) and above all overwhelming support in terms of the number of attendees (people travelled from as far as Stoke to join us!!!).
I think the great atmosphere was down to lots of activity! And a close; intimate environment. Sam and I were a little concerned initially that the hall was going to be too small (despite having already changed the venue once to accommodate the increasing numbers!). As it turned out, although we would have liked to have had a bit more space, it did definitely help generate a relaxed mood and a real buzz!
What advice would you give to anyone else wanting to organise a jam?
Advise to others? Mmmm .... just go for it!!!! But give yourself plenty of time and keep loads of lists!!! Sam and I were constantly on the phone; email; text or
Facebook to everyone and each other and without that regular communication it could have got very messy!!!! In a former life I was the Event Manager for a major insurance company so I think that held me in good stead and Sam is a genius on the computer and also highly organised so the combination worked well!!!!!
I would just like to say from a personal perspective that I'm so overwhelmed by the support we received at the jam and can't quite believe I am where I am right now. I had a bit of a rocky road some years back and I'd like to thank Facepaint UK for that day's training course in September '07 that really inspired me when I was literally just starting out. I felt totally out of my league on the course and like a fish out of water but the welcome you and Caro gave me and what I learned that day set me up on my new adventure! I passed my FACE test in September last year and my next goal is to someday have my work published somewhere!!!! Fingers crossed!!!!!

Here are some pictures of the fabulous work that was done on the day, it's unfortunate that Bibi had to be on the Facepaint UK stand so didn't get to do any painting, but she has promised faithfully that she will next time.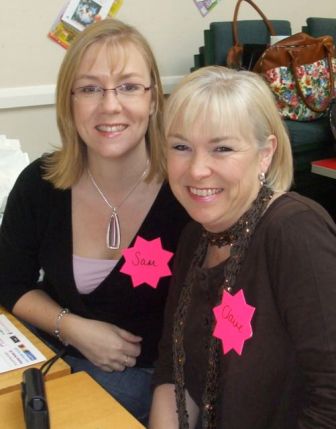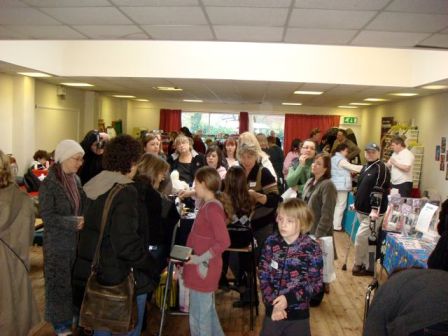 SAM AND CLAIRE THE GATHERING CROWD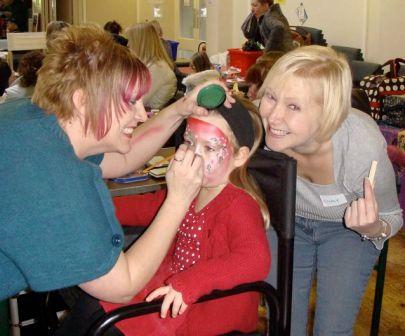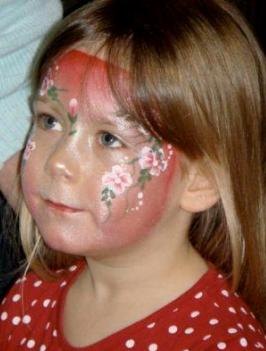 CAROLINE HILL AND CINDY THE PRETTY FINISHED RESULT ON HANNAH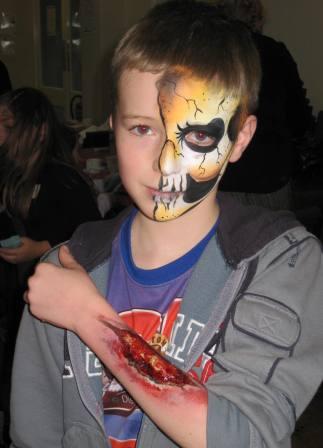 MARK GANNON'S GRUESOME HABITS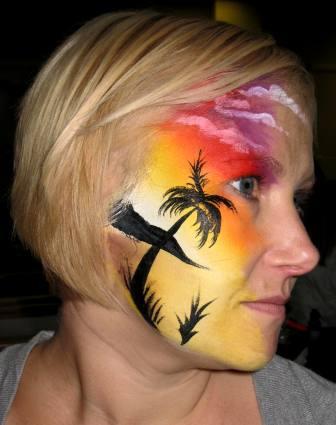 AND SOMETHING A LITTLE NICER LEAVES CINDY FINNIE DREAMING OF HER HOLIDAYS!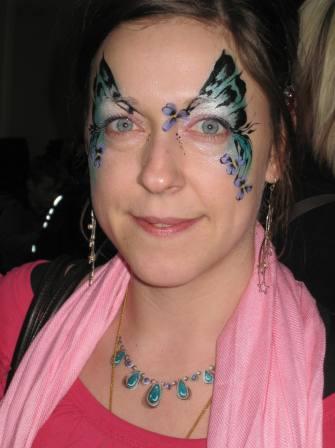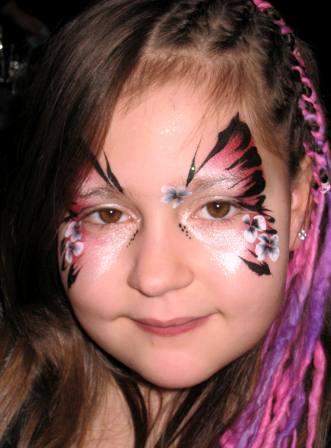 WENDY HOLROYD WAS THE STAR OF THE SHOW (THE NECKLACE IS PAINTED!)
AS WAS HEATHER SHARP, THEY BOTH SEEMED TO BE DEMONSTRATING NON-STOP BEAUTY!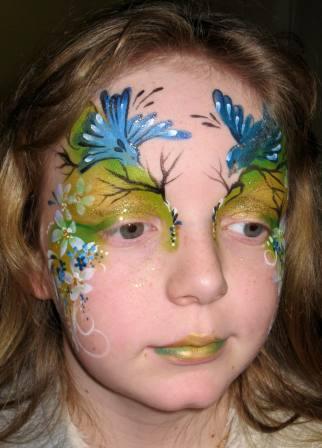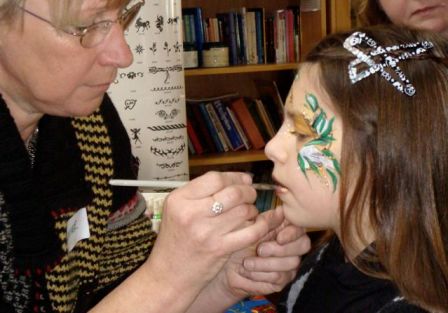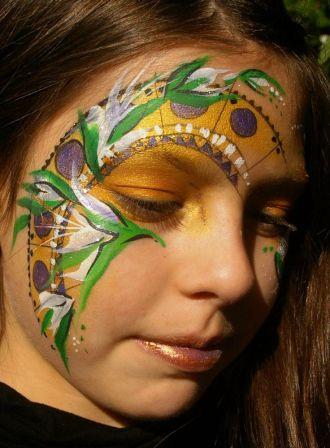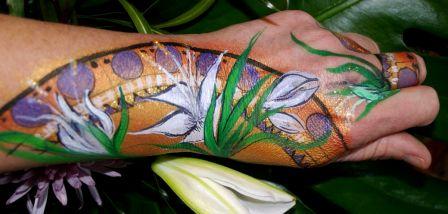 HEATHER'S TEST RUN ON HER ARM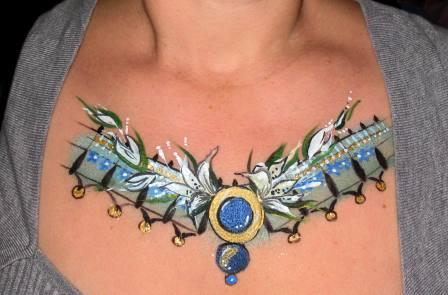 AND A BEAUTIFUL MUCHA INSPIRED DECOLLETAGE ON CINDY FINNIE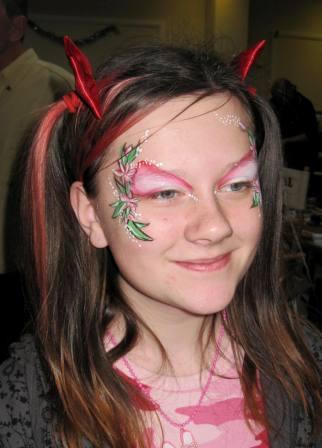 JULIE OLIVER CREATES HER OWN 'ILLUSION' ON CHARISSE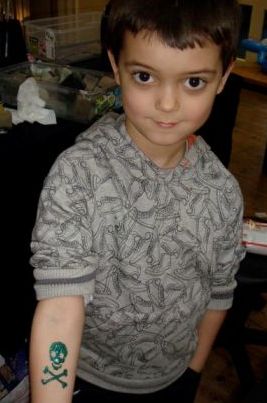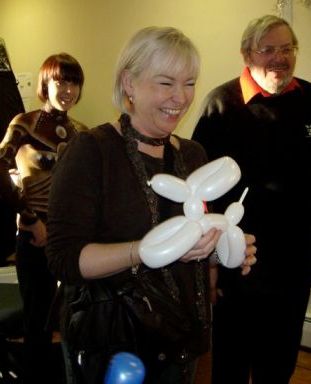 JULIET EVE SPENT THE WHOLE DAY GLITTER TATTOOING, AND CLAIRE HAD A GO AT BALLOONING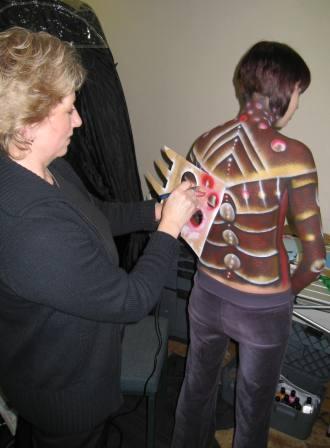 FRAN HEAVER DOING A SPECTACULAR AIRBRUSHING DEMONSTRATION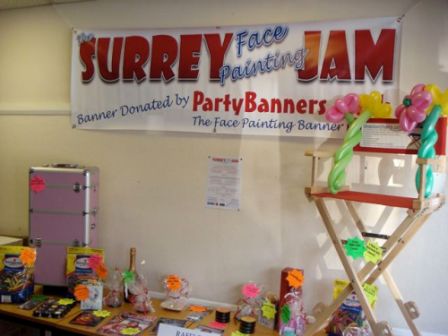 THE ALL-IMPORTANT RAFFLE WOW- JUST LOOK AT THOSE PRIZES!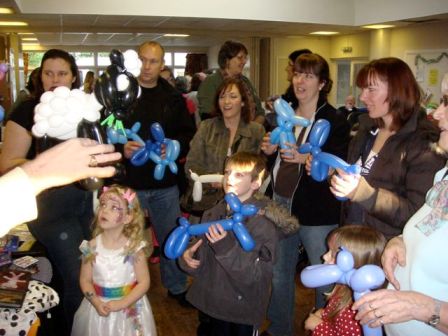 AND THE CARING, SHARING GRAHAM LEE. DO WE LOVE TWISTERS?
TRACY FOSTER CAME WITH NEW BABY ERICA AND SIBLING SABRINA, AND WENT HOME WITH A BIG PINK BEAUTY BOX FROM THE RAFFLE TOO! WILL YOU FILL IT WITH PAINTS OR BABY CLOTHES TRACY?
AND FINALLY - JOHN NOBLE AKA 'MIRACLE MAN' (CLAIRE'S DAD) DRAWS THE RAFFLE!