Wow, you loved this competition!
Thank you so much to all the facepainters that sent in their fab tigers. It just goes to show where a bit of visual inspiration can take you. The following pictures are all our favourites for all sorts of reasons - but we had to choose, and hard though that is, there was one which stood out. We are having several winners who will all be receiving a Facepaint-UK prize, but the Cat that got the Cream is verry Merry!.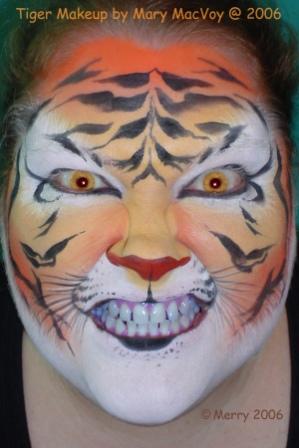 First Prize goes to Mary MacVoy from Canada she wins a year's International Membership, and all the goodies that brings, with her beautifully painted professional image of a tiger. How cool is this?
Next we have a group of three very realistic tigers, all well observed and beautifully painted!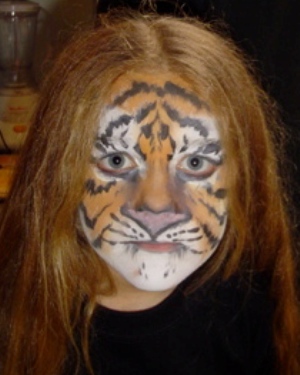 Becca Galbraith has produced the most realistic tiger of all the entries, based on the reference library pictures.
We were impressed by Emma Powell's rendition, not so sure about hubby Duncan though, will he be purring with delight at being a winner?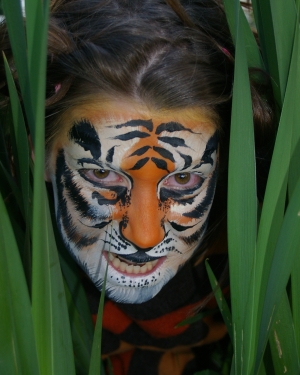 And Heather Sharp had a 'Facial Attraction' and 'Sharp Focus' for this lovely image.
But copying the real thing was not the only mission, the following were all well painted or interesting interpretations: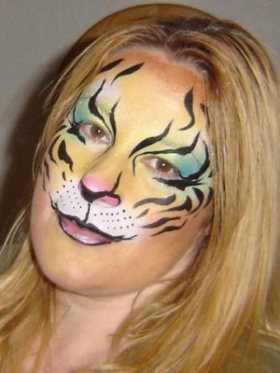 Christine Mavromatis was inspired to combine beauty with the beast.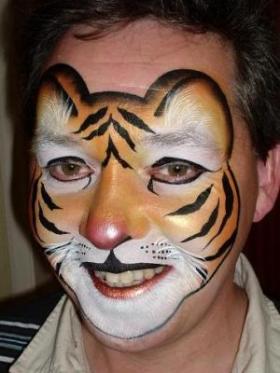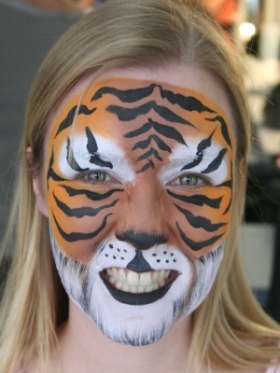 JackieO'Galligan's tiger is all ears to see if he's a winner, and Kat Sinclair lives up to her name!
And we were suitably impressed by these entries too!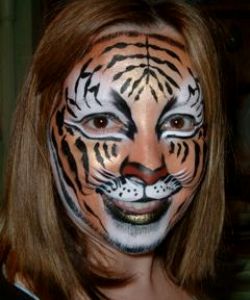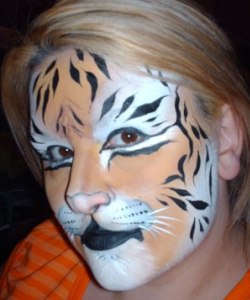 Tracy Foster has shimmered her way to the top, and Michelle Withey painted very sensitively
on these self portraits.
So all of the above we feel deserve a prize, and they can call themselves
FACEPAINT UK COMPETITION WINNERS!
But the story doesn't end there, these are all lovely too and makes this a fabulous resource for many ways to skin the cat (did we really say that?!)
All of these artists are so talented and I am sure you will agree that they (some of whom are very new to facepainting) show that spark of originality as well. Whoever thought there was just one way to paint a tiger!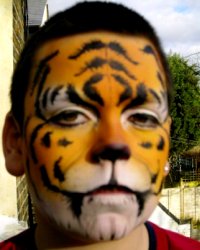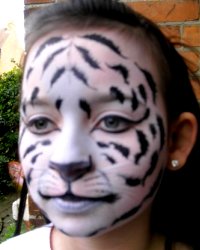 Eva O'Brien's tigers above are both lovely, but Eva - GET A NEW CAMERA!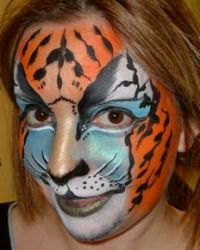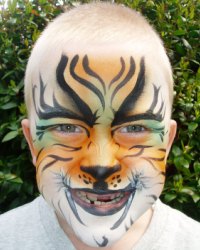 Tracy Foster (left) again with a fantasy version using stunning complimentary colours, is bound to get compliments, and Sarah Grundy's little growler on the right also introduces a colour that lifts the design into new dimensions.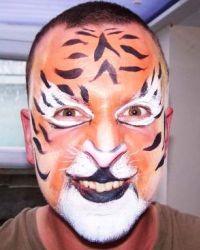 Vicky Daubney (nice nose!) and Patricia Allen have very happy models.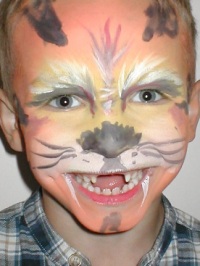 And Max Wragg - HOW CUTE IS THIS!?
These are images of what other people have done after being inspired by tigers, not entered into the competition, but certainly worthy of adding to this page of grrrreat facepainting.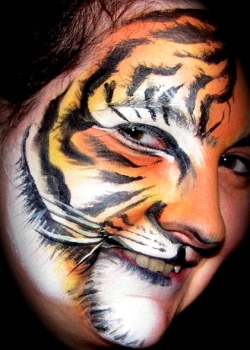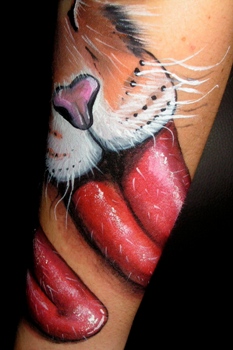 The talented Catriona Finlayson has successfully used this wonderful tiger painted on her own face as her 'corporate branding' and her twisty tongue has licked everyone's ideas into shape!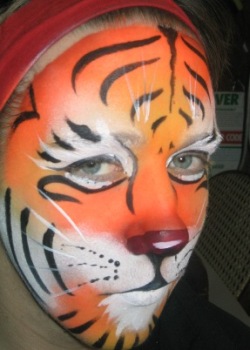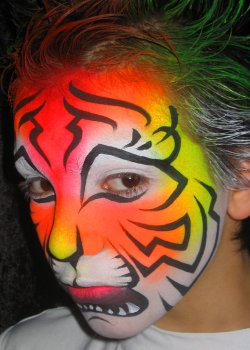 Linda Ireneschild painted this on the left for her Face Certification many moons ago, and Bibi Freeman on the right took tiger stripes somewhere else with her tribal design using UV paints, both on their long suffering children!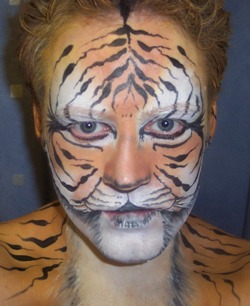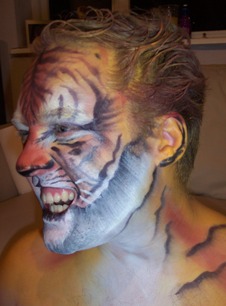 Emma Baldock (aka Minny) looks like she has a lot of fun with fur!
AND FINALLY...
Raphaelle Fieldhouse's Tiger Tiger Burning Bright
that won her first place at the Maskerade Festival a few years ago. Isn't it wonderful?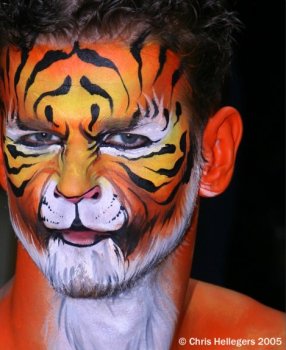 Don't forget we have our exclusive daVinci multi liner brushes that are purrfect for fur effects!
WELL DONE EVERYONE!
See the original Reference Library that started it all off