I only heard about the UK Body Paint Festival AFTER their event last year, when someone mentioned it online. As I wasn't allowed to go to Seeboden this year (travelling with baby bump banned), I emailed them for details, hoping I could still get a painting fix closer to home. Anne sent a very friendly reply, but I decided (from their photos) that it looked as if it was really for a group of beginners, and maybe someone like me who attempted to do face & body art for a job wouldn't fit in. I recognised a few names (such as Jax) but it appeared to be mainly first-timers or painters who were not in what I would call the serious starters category.

I then met Peter & Anne, 2 of the organisers, at the Welsh festival, and was persuaded that if my expanding bump allowed, I should enter. So I did!
We left home (my in-law's farm in North Norfolk) before 6 am on Sat 30th Aug. We arrived late but that was ok as the Michael De Prycker (Fantasy-Worldwide) who was a sponsor, supplier of prizes and judge hadn't quite made it into the country yet! I had no planned face/body designs, just a printout of some Klimt & Van Gogh's, and had been too tired/ busy to think of what to do for the 1st day's 'Works of Art' theme. The scoring was to be the total points for each artist over the 2 days of the event.
The pub field (we had to ask the pub staff to tell us how to get into it) was very picturesque, surrounded by trees and a stream full of hefty fish. Although billed as a camping event, there were only 2 portaloos and no showers I could see, so I was glad we had opted for a nearby B&B. The Welsh Festival had taught me that women over 7 months pregnant can't cope with night loo visits, especially when they can't get up from an air mattress unassisted!
So, Saturday was lovely and sunny, with the main marquee opened on both sides to let in the breeze. Sadly the pub sent off the ice cream vendor, it was boiling and we could have done with one - 1st time I have overheated since leaving Hong Kong! A row of stalls (jewellery, badge making, paint your own china, raffle, etc) and a bouncy castle ran along 3 sides of it. We faced the BBQ tent and a lorry trailer 'stage', sending to the pub for cold drinks. Jax's beautiful traditional gypsy caravan added colour (could tell she was a face-painter – practice head on the front step with her geraniums!) as did several stalls advertising the British Guild of Body Painters and their calendars. Not a group I had heard of, or seen before, and they didn't seem to have any of the UK's great painters on their posters.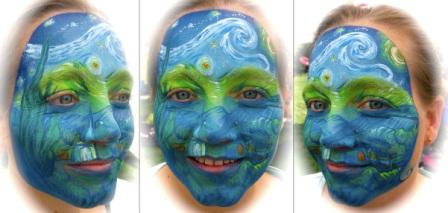 CAT'S VERSION OF VAN GOGH'S STARRY STARRY NIGHT!
The face painting competition finally started 1 hr before the body painting comp. I did mine in about 40 mins and sent her off to be judged (judges only see a model holding their artists registration number, not the artist or a name, in theory, nice attempt at unbiased scoring), as I needed lunch before the body comp. So I didn't get to do hair beforehand, not that I can! I missed seeing any of the other faces too as I launched straight into the body. The model I was supplied with was an actress, Theresa, who'd never done it before, and learnt her script whilst I painted. I found out the week before we were only given 4 hrs to paint (1/3 less than most body comps) but that was stretched to 5 for those that wished it.
The benches supplied weren't suitable to use as a table to lay models on (which I prefer to do) but at least were stable so I could stand her on it to do lower legs etc, as I could no longer bend with my bump. There were not enough, I think, so some who hadn't supplied their own table & chairs were working from the ground. Several I knew online or from the Welsh Festival, but many I didn't get a chance to talk to or meet properly, though all were very chatty and friendly when we had a chance. They included a few scary characters, very mediocre painters who had more confidence and ego than even world champions I have met.
Around 4 pm it was realised there were no showers for models, just the stream or solar shower bags (which someone forgot to 'charge'!). So, some unimpressed models, though mine was OK, staying at a hostel! There was also a scary moment when the painter beside me stopped for a break and a wasp crawled up his model's inner thigh into his jock strap! Luckily it left without stinging and no help from us to get it out.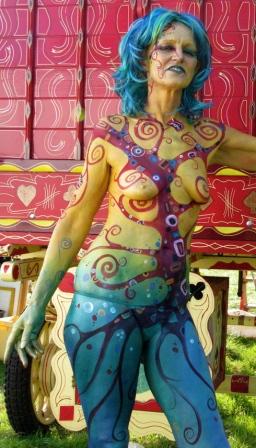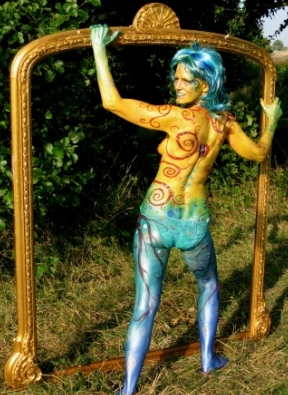 CAT'S 'KLIMT' BODY PAINT ENTRY FOR DAY ONE
There was a fair bit of media and public interest (shame it wasn't busier), though I REALLY did not agree with some of the advice they were giving to people. Or with some of the people giving the advice – sure, they knew more than the public, but not much in some cases! Also the artists being touted as body painting's 'leading lights' were not who I would have mentioned by any stretch of the imagination– many of the amazing and/or award winning UK painters (world champions too!) were not mentioned. I was lending things out a lot - for once I reckon I had the biggest kit around which is not the usual case with my cut-down set! I can't comment on the advertised face & body demos as I didn't see them or their results, but apart from a few in the body comp I would not have bothered to watch any of the others aside from Jax and Sabine (who I don't think did the body comp but were painting the public).
Lauren Baker (3rd in the Welsh Elite category with Michelle Withey as an assistant) painted with the sometimes 'help' of her hubby, and did a gorgeous Taj Mahal with a blue face blended into a real headscarf.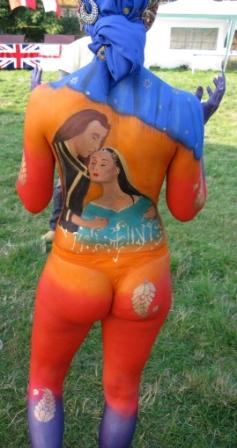 LAUREN BAKER'S TAJ MAHAL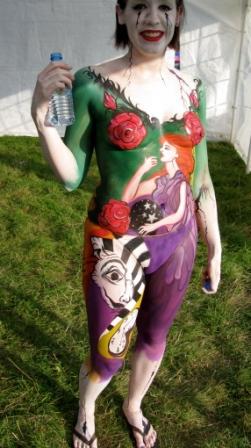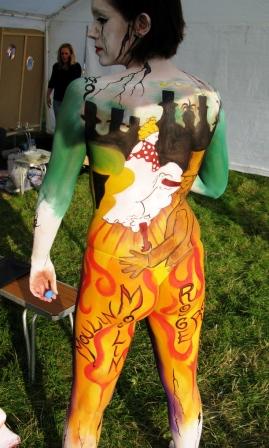 NICE ROSES AND TOULOUSE-LAUTREC FOR AN ART NOUVEAU THEME BY KIRSTEN BENTLEY
Kirsten did a cool Moulin Rouge. Several produced muddy coloured work, which often seems to happen with beginners, especially when they mainly sponge body bases. Even my model asked if the others were using rubbish paints - but it looked like aside from Tim Gratton and other less professional liquid paints (which I think are horrific) it was Snaz or Wolfe/Diamond, badly applied. Rachel Sims & Claire Howkins did a beautiful 1st ever body with FWW and some amazing holo glitter. Max Wragg did an interesting pinkish oxblood 'wall' background with art 'hung' on it. I loved my Klimt body – funny how some last minute ideas just work.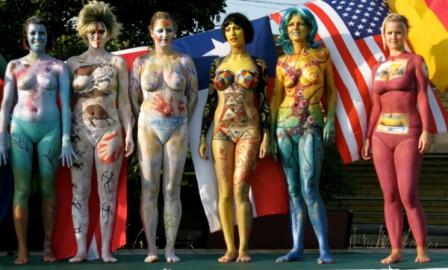 SOME ENTRIES FOR 'WORKS OF ART' DAY ONE
ARTISTS L TO R - 1. Claire Howkins and Rachel Sims 2 & 3. John Marriott 4. Vanessa Wayne 5. Cat Finlayson 6. Max Wragg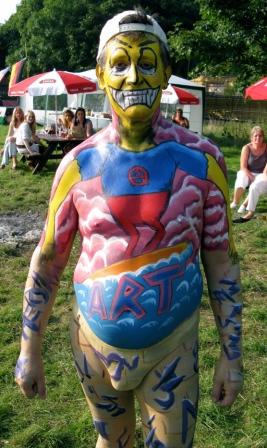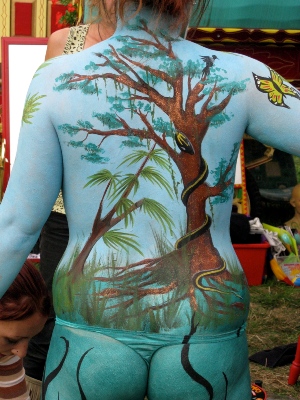 A WASPISH B'ART SIMPSON BY MARK DENNIS FROM DAY ONE, AND SOMETHING TEMPTING FROM DAY TWO BY JAX & CO
No scores were announced, fair enough, as they wanted everyone to feel level at start the next day. I thought their official photography area was annoying, as it was set up in full sun, with a backdrop that didn't cover the ground as well, so made for too contrasty shots with fussy backgrounds. Theresa & I went exploring for better sites to shoot in, but my back & ankles hurt so much I had to go back to our B&B.
Day 2 (Sunday) was cold, windy, wet, with no heat source for the models. I was so sore & stiff (more due to preg than painting, its not that tough!) hubby had me on my painting mat massaging my back & feet till it all started. (Will be renting him out at future comps!). A surprise theme was pulled from the hat at 11 am - Rainforests. I started thinking, until my face model arrived to say they'd just told her that today the face & body comp would run together! As we wanted to head home sharpish (my last pre-baby body paint & shoot booking was early on Monday) I did a really fast face on her in 20 mins and sent her to be judged.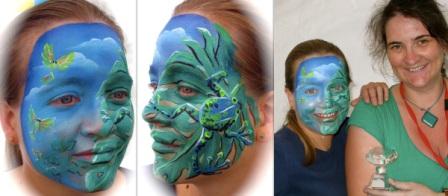 CAT'S RAINFOREST FACE DESIGN - A WINNER!
I must say the body standard improved DRAMATICALLY – it was like a different set of artists! Wondering if all the muddy painters had now seen that it could be done in nice colours. Several had great leafy themed ideas. Jax & co did a lovely pale blue base with a tree on the back. Lauren created another fab, winning design, with amazing hair plaited & sprayed to look flowery. Vaness Wayne's monkey face with a banana on her head and sweet chimp front was 2nd – I loved it, with a cute jaguarundi on the back too!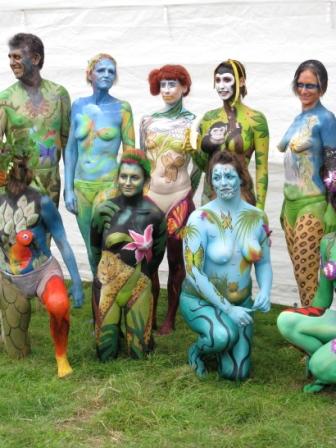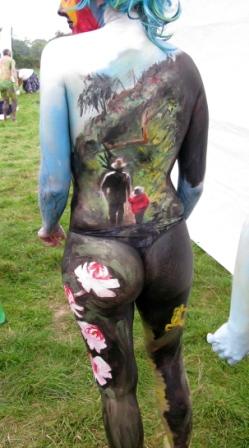 A PRELIMINARY LINE-UP (L-R BACK ROW 2.CAT FINLAYSON 4.VANESSA WAYNE, 5. JOHN MARRIOTT FRONT ROW 1. CLAUDIA MENDE 2. LAUREN BAKER 3. JAX &CO) AND A 1ST EVER EFFORT FROM A COUPLE OF ART TEACHERS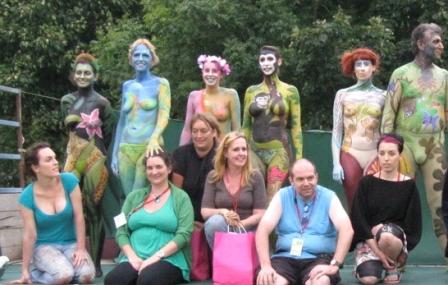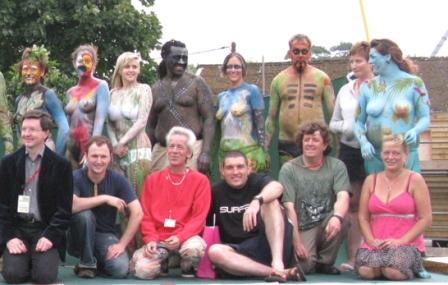 AND THE FINAL LINE-UP A WITH PAINTERS IN FRONT OF THEIR MODELS - SORT OF.
I do think the 'surprise' theme round was a good idea (even if my effort sucked) as it levelled the field – no amazing accessories had been created to win extra points and no one had time to repeatedly practice their ideas. I wasn't happy with my body -including my worst butterfly EVER - but was chuffed with 3rd place! And I won the Adult Face Painting (woohoo!) with some lovely comments from the judges. Sabine was 2nd. I didn't get to see any of the other faces, maybe they were in other areas, so look forward to the photos- I think I was the only body painter in the big tent doing both comps.
So, a fun weekend, but if you wanted to learn things from outstanding painters, and see amazing artistic creations, Wales's festival would have been better to go to. Whilst it has been going on a bit longer than the Welsh event, the UKBPF has a rather amateur look & feel, which I think they want to encourage, and there's nothing wrong with that – some beginners may find it less intimidating. Though child friendly, it seems to be geared more to people who like painting odd things on friends in their back gardens rather than those wanting to learn an art form suitable for public events and publications. Although several of 'us', the more 'mainstream' artists did turn up this year, so who knows how it will develop. The standard is improving, but Wales produced far higher quality work and presented a much more professional, clean-cut image to the public. So, yes, interesting, friendly and with a lot of hard work from organisers, artists and models but maybe not everyone's cup of tea!
Nicest was the relaxed 'join in' attitude of the UKBPF event. For example, 2 men turned up on Saturday afternoon, became fascinated and stayed to watch (asking me lots of questions). Enquiring if they could have a go and paint their 1st body the next day, they were told that would be fine. So, Sunday a.m. they bought some FWW kit (the only paint on sale), borrowed a wig from me, found a model and off they went. I notice from photos they had another lady helping them paint although the rules said 2 artists max, but it was a very relaxed event and they were not 'properly' competing. Their rainforest, with people walking into razed woodland on the back was REALLY well done, especially as 1/2 the questions they asked me during the paint I couldn't help with – I don't use FWW paints. They were given a special prize – and no one was surprised when they turned out to be local art teachers!
More excellent pictures from the BBC here: BBC Kent
More about the Festival on their webiste here: UK Body Painting Festival
and here at Antrixonline