Spring is here at last, the sun is promising some warmth, it's time to think positively of summer wear. It's hard to remember how warm it can get, but t-shirts are a must, and a great opportunity to market yourself while you show off your facepainting skills. Catriona Finlayson has done extensive research into printed clothing, and generously shared it with us.
Printed Tops
Ok, we all wear clothes to paint in. (I hope). But what do they say about you? Tatty and covered in stains or giving you some free advertising as well as looking smart while you work?
Usually I wore the ubiquitous comfy black trousers (or shorts), with mad striped socks, and a black, red or orange top. (My logo is striped in those colours so I painted all my kit to match too). It looked smart yet slightly fun/ artistic (I hoped!), it didn't show the paint, and best of all, I had 'Face Painter' as well as my www printed large on my back, which advertised and also helped stop questions from confused people I passed on the streets during my breaks. My last set of tops has that front AND back as I got fed up of funny looks or explaining! Others I worked with or for also said having that on my back not only advertised me as I worked (I prefer having my back to the queue so they can watch the face appearing), it also made it far easier to identify me in crowds of onlookers.
My big tip is to not have your www, company name or phone number small on the chest as most uniforms do, make it BIG. Despite what we may think many people will not want to peer closely at your breast to get your details! Put it on your back, and you are basically a smart walking sandwich board (without the dorky awkward boards of course). Plus if you paint facing away from the queue, maybe it will imprint your name onto their eyeballs while they wait!
So here are some resources if you fancy updating your tops...
DIY
1) Iron on inkjet paper
This you can get from all sorts of places, including WH Smiths, usually under £7 for 5 sheets. There are often 2 versions, 1 for light fabrics and 1 for dark or coloured fabric. You print off your wording (read the instructions - some paper needs to have things printed out flipped backwards - most printers have this option), position it on a freshly washed top, and iron on. It does what it says in the can, so to speak.
e.g. WHS Dark Transfer
Advantages:
- It is relatively cheap, fast and easy, and exactly as you want it, on your own top.
Drawbacks: - It does tend to crack / have gaps in if the fabric is stretched over any 'shapely' bits.
- It does fade rapidly in some cases, or wash off in flakes.
- Not that sharp / strong looking.
- Works better on tops with less cotton on them.
2) Paint / print it yourself
All sorts of dyes are in most art / fabric shops. You can dye in washing machines (easy! As long as you get machine dye) or by hand, and they all work well if you use a good make like Dylon.
Or make life really easy for yoursef and buy the beautiful Facepaint UK tie-dye T Shirt from here as modelled by Bibi! The wording on the back (1st picture) makes giving interfering parents essential advice less personal.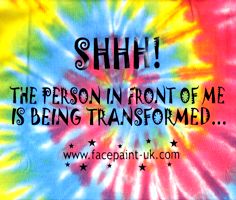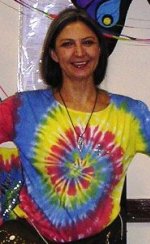 Fabric paints have an even wider range, as liquids, crayons, or pens, and include pearly, fluorescent and 3D paint pens that can be puffy, glittery or pearly too. They are easy to use, some need fixing by ironing the reverse, and others (like the puffa paints) you must never iron the top of.
I spent a lot of time as a kid customizing my clothes with these, and anything works - hand drawing designs, printing with shapes or through hand made stencils. I use wide masking tape for simple designs only needed once, or thin card or OHP acetate for more complicated designs I can re-use. e.g. Dylon catalogue (you can see great ideas & the range!) or Dimensional Glitter Paints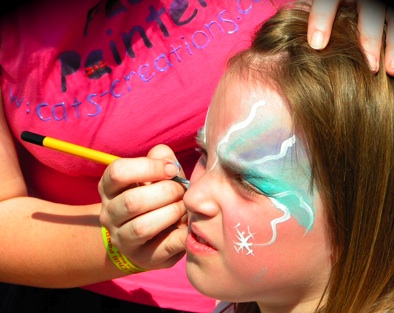 .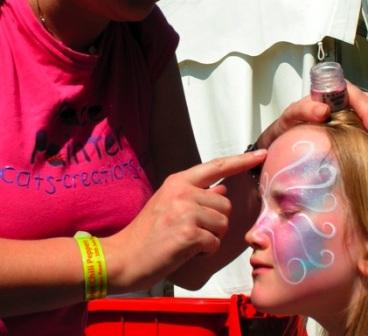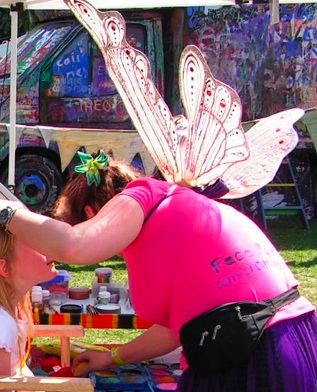 Advantages:
- It is relatively cheap, fast and easy, and exactly as you want it, on your own top
- Great range of colours & effects
- Can go over most coloured fabrics if you use contrasting shades
Drawbacks:
- You need a steady hand / to be arty if going free-hand
- Can look a bit amateur
- Some paints will crack if over stretched - try to paint with fabric stretched out (eg really wide plastic cutting board inside it)
GETTING SOMEONE ELSE TO DO IT/OTHER PROCESSES Photographic Shops Many high street photo developers offer Tshirts (etc) printed with your own pictures, so most do accept pictures added into a design, although you will need to check what format to hand in your artwork as. Snappy Snaps, Jessops and many more do this.
e.g. Jessops adult Tshirt - £11.99
This is a photo of one I had done by the local photo printers in Hong Kong - looked good - until I washed it!
Some printers offer a photo-quality sublimation printed top, that impregnates the ink into the specially treated shirt fibres, so allegedly they won't run or fade. I have seen the finished tops which are impressive, but not heard how they wash yet! e.g Inkies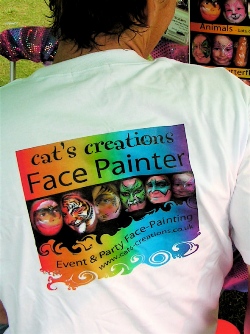 Advantages:
- It is easy to walk in to most high street camera shops and do.
- Multicoloured print of YOUR photos/ designs.
- Can go over most coloured fabrics if you use contrasting shades.
Drawbacks:
- Tend to take only photos/ simple designs.
- Often fades/ runs once washed.
- Usually only on white Tshirts that you can't try on before buying.
.
.
.
Screen Printing
1) DIY
If you can DIY this, great, but many don't have the skills or kit! It is something they often teach in high school art, so maybe you can persuade a teenager you know to do it as one of his GCSE projects.
You can often ask screen printers if they will set up your design and find that they will, but only if you order a set amount. They will charge you for the screen, which might be hefty for a small quantity.
2) Online / Local Screen Printing
Often local printers will only set up screens for you if you order a minimum number of Tshirts - check!
Online printers will do 1-offs, and often offer an easy pick & click service with a variety of T-shirts & styles for you to choose from. I got fed up as most won't let you upload photos or logos, but if you want just a plain name or phrase, in a popular font, on the front, back or breast "pocket" of a top, that is the way to go. e.g. Café Press let you design, buy (and sell) your own designs (including photos etc) on all sorts of items.
You do have to join but it doesn't take long.
Advantages:
- Mid-price.
- Many styles/ tops.
- Long lasting, professional finish.
Drawbacks:
- Often only 1 colour text in popular fonts allowed, not logos/your own type.
- Can't try on tops first.
Vinyl Heat Printing
At least I think that's what it was called! Computers cut out your design / lettering (which can be fairly fiddly, but only in 1 colour/effect per line) and it is then heat pressed on to any cotton garment (if there is too much man made fibre the top can melt!). The company I used did it in all sorts of colours, holographic, glittery and even fuzzy-fur finishes. They also would print onto either their own stock, or tops you provided. I have washed & worn mine at least twice a week for the last 3 years and they are STILL as crisp as new.
e.g. Inkies, where I got my tops - his black JD shirt used this method.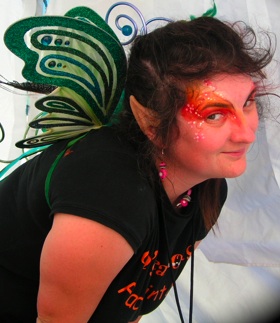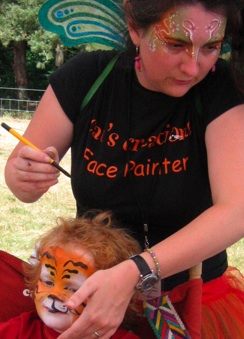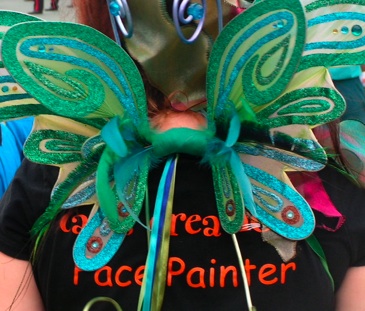 Advantages:
- Mid-price, with the exact lettering/ logo you want.
- Many styles/ tops/ colours, will go over any colour.
- Long lasting, professional finish that stretches with the top.
Drawbacks:
- Often only 1 colour per line, can't do photos.
- Can't always try on tops first.
Embroidered logos
Many Tshirt printers also offer this service and will embroider the logo of your choice onto a wide range of products. Setting up the pattern on their machines usually has a fairly high set cost, but from then on any repeat orders from you are charged at a far lower rate.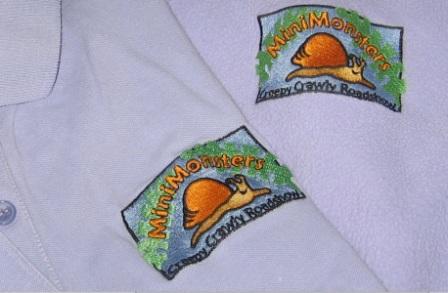 Advantages:
- Many styles / tops in many colours.
- Long lasting, professional finish that stretches with the top.
Drawbacks:
- Expensive to set up.
- Usually only for small logos - price rises with size & number of stitches.
- Can't do photos.
- Can't always try on tops first.
These are all either the first links I found or ones I have used myself - there are 100s of suppliers in phone books and on the internet - see what suits you!

Thanks for all that Cat, what a useful resource.
Facepaint UK got their Tshirts hand dyed and printed at Heptangle. They gave us a fantastic service!