The eyes are very important, for general face painting it's best to paint the eyes over the eyelids, if you want to make a realistic body painting use contact lenses. False eyelashes work well for a femal Na'vi. Plain black will do, we have loads at Facepaint UK. For even more realism you can use silicone to build a broader bridge on the nose and paint it afterwards. Again, we have these available online. If you don't want to go that far, use shading to visually broaden the nose.
It's going to be an Avatar 'inspired' design as you can't make the eyes work completely, so just play with the whole idea.
There aren't any 'right' markings as each Na'vi is an individual with their own markings, but they are symmetrical. The end of the nose is like a cat's nose, and quite minimal (as all cat's noses should be) and Grimas 506 is a good colour, used over the blue.
The final markings of the white 'freckles' need to be added carefully as specific dots, use Paradise Detailz if you can't get them right with a brush. You could add a little Silver Glitter Gel to each for a bit of sophistication.
The lips are a touch warmer than the blue you have painted everywhere else, you can achieve this by again painting pink over the blue, Grimas 752 or 753 will work well as it has a slight transparency as well as a pearlised sheen. You could add vampire teeth, we have some nice budget priced ones just in.
You can make ears and accessories, it's a fun project. Thin foam makes good ears which can be put into the hair with grips, you can colour them with the same paint as you are using on the face/body. If it won't apply easily, coat them with hairspray first. Or you can use card. No doubt there will be a plethora of Avatar wigs on the market quite soon.

Here's a brilliant version using airbrush techniques from a master of his craft, World Champion and general genuis Alex Hansen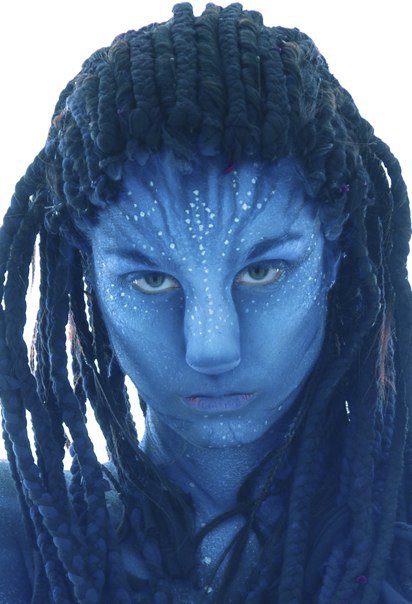 If you don't want to take it too seriously – there's always these tutorials on youtube
Tutorial 1
Tutorial 2