After the umpteenth request for information on what to use to paint a body gold (or silver), and how to apply it, we've decided it's time to give definitive set of instructions!
It's obviously a very popular effect, and we agree it can look fantastic, if done properly. I do recall seeing a dreadful version on TV once which is a shame as it's actually quite easy to do well, even for a novice.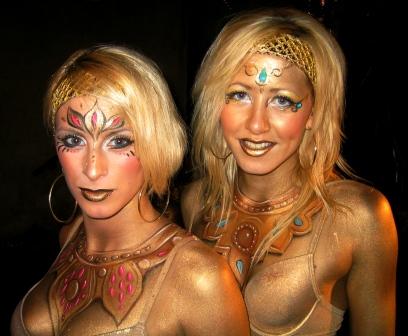 2 lovely girls by Bibi Freeman and Raphaelle Fieldhouse
The best product to use for an ultra shiny finish that you really cannot get with ordinary paint is a special metallic powder and a mixing medium. There are choices for both of these; both Mehron and Graftobian make very good versions.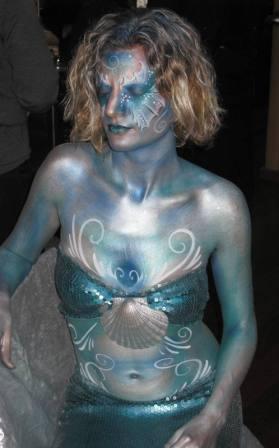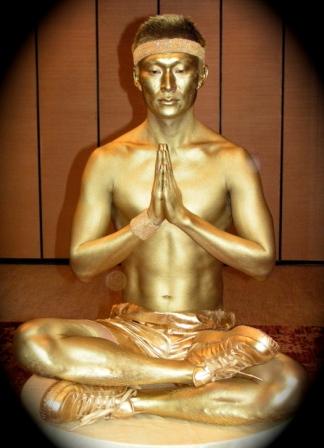 Mermaid by Bibi Freeman Buddha by Catriona Finlayson
The metallic powder varies in weight according to colour, it's sold by the pot with different content weights, for example Silver is twice as heavy as Gold, so you only get 0.5oz in the same size pot to 1oz of Gold. Mehron does 4 colours: Gold, Silver, Copper and Bronze and is a bit less expensive than Graftobian which only comes in Silver and Gold. Mehron also do Special Gem Powders in a wider range of 13 colours, but it is intended for smaller areas, and is more expensive at £5.20 for 0.17oz. We can obtain this on request.
The powder needs to be mixed with something before it is applied.
Mehron do a product called Mixing Liquid, which is inexpensive, and has an alcohol base. This means that you must only mix a little at a time as the alcohol evaporates, and will not keep for long if pre-mixed, so mix a little at a time as you work. It should not be applied near the eye/mouth/nose area. You can apply normal metallic eyeshadows etc. to these areas. The best match we have found is a blend of Grimas 705/708, or you could use the powder without a medium.
Graftobian recommend their liquid product which is called Magic Set for mixing. This does not contain alcohol, (but does contain urea) so is more universal. Again, we do not recommend mixing more than you will use in a painting session.
Use about twice as much liquid to powder, and make sure it is thoroughly blended before applying, i.e. no lumps.
The resulting concoction can be applied with a brush or a sponge, though a sponge will absorb lots of the product, which is quite wasteful, and not give such a smooth finish as a brush. It dries very quickly, so you need to work quickly to avoid getting edges.
If you are covering large areas, such as a whole body, you will need a large brush. The best we've found is the Paradise Body Chisel. It is quite expensive,
but if you plan to ever do any more body painting, it's the brush to have! Otherwise you could get away with any large, soft brush, we have a cheap
and cheerful one by Major @ £3.45 (Large Flat Synthetic Brush). When you have finished painting, you can polish with a soft powder puff or cloth.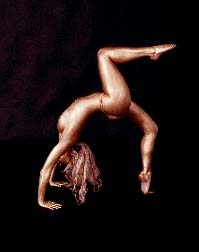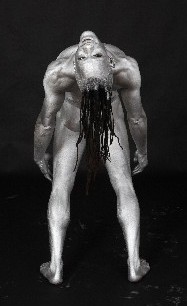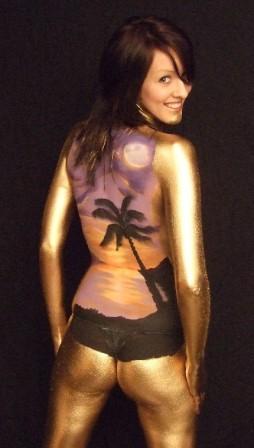 A beautiful trio by John Davis. Bendy girl photo byNigel of Photographic Solutions, gold girl on the right is powder mixed with oil. (See below for more detail on this)
You will need 1 bottle of powder and 1 bottle of Mixing Liquid per slim female body, but I would always like to have one in reserve in case of spills or accidents. Magic Set doesn't come in convenient sizes, there is a leap from 2fl oz to 8 fl oz, 2 is not enough, and 8 is too much for one body.
The transfer properties (to clothing/props etc.) are minimal but not complete. If it is really important that the paint does not transfer, it can be fixed with either Kryolan Fixier aerosol spray, or Mehron Barrier Spray. The Mehron version is in a pump spray which is better for the environment, but there is a possibility that the mist will not be as even, and any splatters will show up as a slight difference in texture.
Because the finish using the mixing mediums is resistant to touch, it is also resistant to glitter adhering, so you would need to use an adhesive for glitter to stick (unless you are using oil as a medium).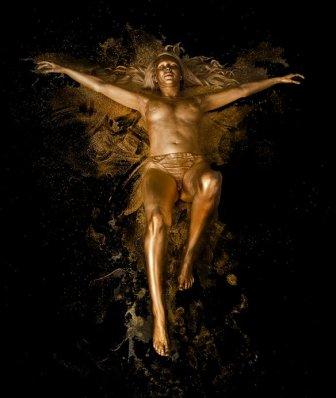 Another fabulous image painted by John Davis, photographed by Nigel of Photographic Solutions
The product can also be applied to fabrics and props so that everything matches. However, it is a good idea to have minimal and smooth clothing as textures will affect the reflective properties; the instance I saw on TV had used large textured underwear and did nobody any favours! Remember that natural fabrics will absorb more than synthetic ones, lycra content helps with close fitting and have less absorption, but does affect flash photography adversely, showing up the white lycra fibres.
If you want an incredibly shiny, chrome-like finish you can also mix the powders with an oil such as ordinary Baby Oil, (or vegetable oil!). It can be applied simply using hands, a bit like a massage! This will look fantastic, but will also be oily! Anything that is touched will be affected and it will take lots of shower gel and hot water to remove it from your model.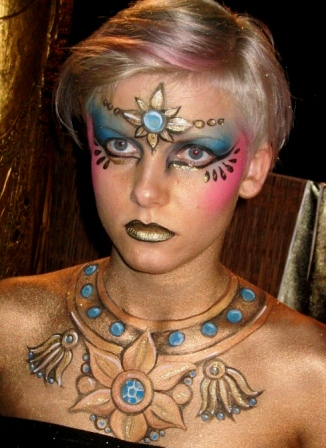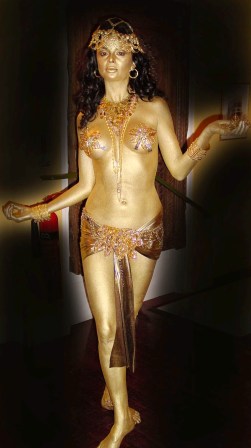 Aztec girl by Bibi Freeman

Here is a link to a useful video on how to apply the powder products by Catriona Finlayson
and Jennie Roberts.
HairThe product can also be applied to hair, but we would not recommend that it is put on beached hair as there have been issues with a green tinge lingering afterwards. Facepaint UK also has Stargazer metallic hairspray and hair gel that can complete the effect, and gold glitter can complete the look!
Airbrush
In principle the products are able to be used with an airbrush, but if your aperture is fine, you may find that it clogs, like all metallic products. The effect that can be achieved with a normal 'hair' brush (geddit?) is so good, that we don't think it's worth the hassle of airbrushing, but if your gun is. 0.5mm needle or more, you could give it a go.
Facepaint UK also now stocks a ready made metallic liquid paint by Kryolan which is easy to apply, and can even be put on with your hands! This comes in Gold, Silver, Copper and Bronze and is £7.65 for 100ml. One bottle is enough for a whole body, not enough for 2. It also comes in 250ml and 500ml if you've lots of bodies to do.
We hope that we've given a good summary of what the issues and advantages are, but if you need to ask any questions, please send us an email.
If you find it all a bit much to take on, contact one of the artists who did the fabulous work that illustrates this article by clicking on their name, which is a link to their email address.
Here are some more pictures for you to see what can be achieved: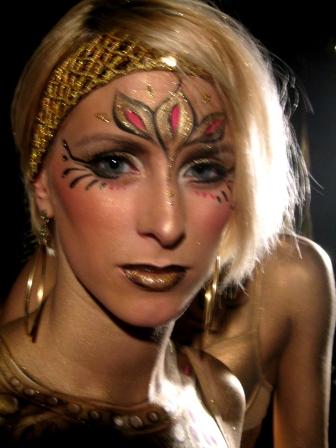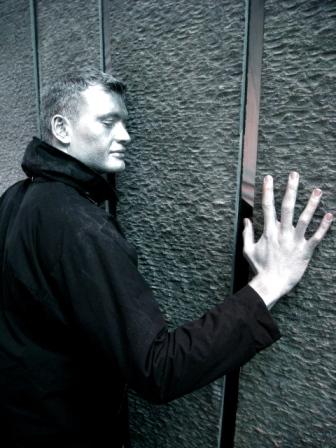 Gold
make-up by Bibi Freeman Silver man by Catriona Finlayson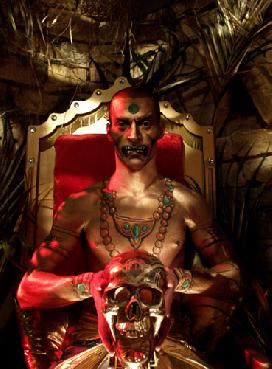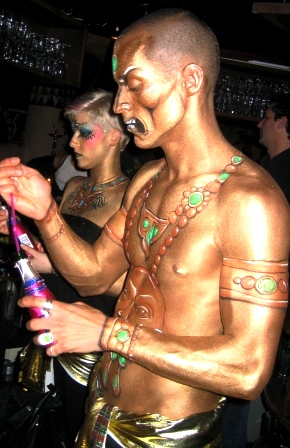 Aztec
King by Raphaelle Fieldhouse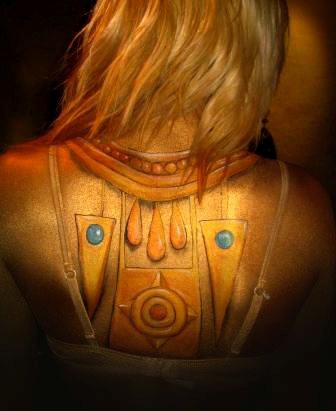 Aztec Queen's back by Raphaelle Fieldhouse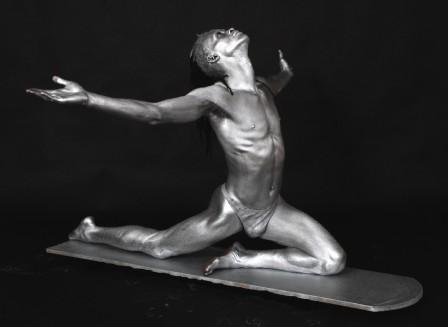 Silver Surfer by John Davis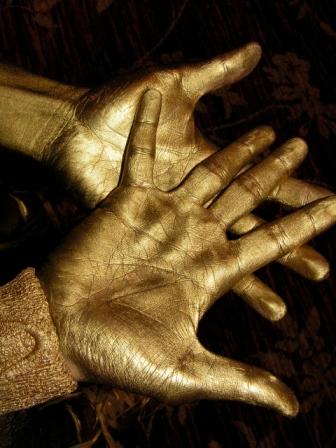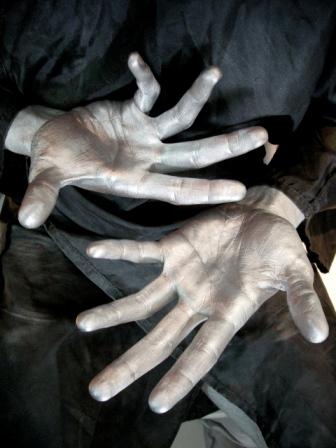 Give Catriona Finlayson a big hand for these two great images