Grimas Make up in the little grey pots that stack so neatly has
probably been one of the most popular brands of water based make up amongst professional face painters, yet it has remained amazingly uncommercial
and even difficult to find in the UK. We were privileged to be the guests of the small Dutch company that owns Grimas and we spent a delightful couple
of days exploring the product and being shown around.

First impressions were of a brilliant
product made by a small happy utopian factory, spotlessly clean, efficient, ethical, enthusiastic, innovative, considerate hours, healthy food, welcoming
to people with disabilities with everyone on equal terms and equal opportunities and that's just it - the owner management are obsessive about the
quality of everything they do. For this reason they do not want to expand more than they can comfortably manage whilst remaining in full control of
production. They won't sell to America and you won't find packaging gimmicks such as 'Halloween palettes' or Superhero blister packs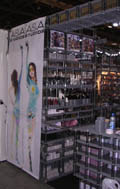 Grimas are proud to have developed a product originally called 'Pure' which is formulated to contain no anti-bactericides, and provides an alternative for those sensitive to parabens and chemical preservatives (chlorine, bromine etc.) and are not perfumed. Also, the pigments for the colours used are from the strictest category - EEC/76/768. The whole face paint range is now 'Pure'.
It is not apparent that there is a budget for market research or prolific advertising, the Guys at Grimas feel they know best and in many cases they do seem to, but if their customers want something different it will only happen if it catches the imagination of the management who are like little boys excited by their chemistry sets and construction kits
The amazing space age stand seen at the Warpaint exhibition at Excel was designed by
Jan as an extension of the brilliant stacking system that is the signature of Grimas.We did the body paint on the banner!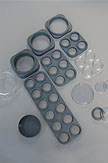 Facepaint UK offers the complete range of Grimas, we thoroughly endorse it and it is our favourite brand overall - which is not to say you won't find some Kryolan and Paradise and Diamond FX and even Snazaroo in our kits.
Grimas has an extensive range of 'proper' make up, some of which is useful to face and body painters.Their special effects products are truly worth trying if you lean in that direction too.
The face paints are a glycerine based product, the matt colours have good opacity and are easy to apply with a sponge. The black and white have been surpassed by other brands for line work, (we suggest Paradise or DFX) but remain our preferred product for sponging bases.

The pearlised colours are the best thing ever for quick and lovely princess bases and more, they are translucent with a gentle sheen. The metallic colours (Gold 702 and Silver 701) are not the same and have a more metallic effect. In general, the consistency of Grimas face paint is good; they don't melt or dry out in the sun and have a high pigment content so a little goes a very long way. The colours are bright and the packaging is wonderful. The little pots clip onto trays that can stack onto another tray so that setting up and packing away is a doddle, no lids to match to pots, and 12 colours at a time magically appear (or disappear). They are very robust to suit us seasoned travellers, and the whole range comes in the same format, everything clips together like Lego! They are so good that we use Grimas products as the mainstay of our face painting kits.
A word of warning, don't be tempted to re-pot Snazaroo paints into empty Grimas pots, (a trick I am sure we have all tried in order to rationalise the hundred and one varieties in a face painters kit). One of the oils in Snaz paints causes the Grimas grey plastic pots to disintegrate!

Their 'Cake Make-up' is designed to be used almost dry as a sponged base. It is very easy to apply with a barely damp sponge for super-smooth coverage, and can be painted over without colour transfer, even black over white. Most professional painters will have a 'cake white' in their kit. It also acts as a barrier against potential staining. Never spray it with water!

Grimas also produce theatre make-up. These are known as creams (or crèmes) and appear similar to the water-based face paints. However, they perform completely differently, are applied with a latex sponge (or brush) and need to be fixed with a powder. They also need to be removed with a cream, theirs is called Afschmink. They are sweat proof and water proof.