Tim Burton has re-imagined the Mad Hatter with help from the delicious Johnny Depp. It's become a popular design for face painters and make-up artists, and we're here to help!
We have intentionally stocked all the items needed to create 'the look'. Here's a bit of a 'how to' and the products you will need.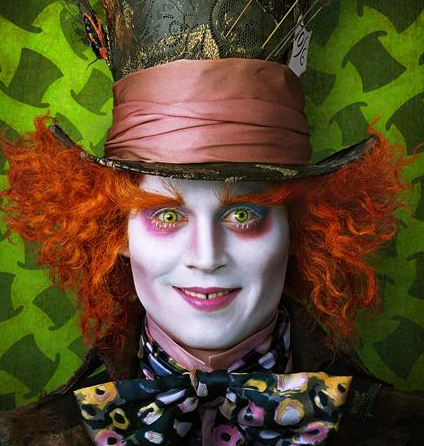 How to create a Mad Hatter!
Start with a white base. You can use ordinary white face paint, but Grimas Cake White will give a flawless finish with ease.

If you are intending to use contact lenses, it's a good idea to insert them before you do any eye make-up. These are the best match we found.

For the colour on the eyes you can use face paint or eye shadow, whichever you prefer or find easiest to use.
Grimas colours for facepaint are Pink 508 and Blue 302, these are the least 'harsh' to apply and can be blended easily.


Eye shadow colours would be Pink 573 and Blue 384.


Use a blusher brush to apply Rouge 681 in the cheek hollows or use a dry sponge with the new Purple 603 face paint.


Apply Stargazer White Mascara and 5-10 and paint some Grimas Black Tooth Enamel on dry teeth (between the front two) to create a diastema.


Use Grimas 5-10 lipstick or lip cream for the lips, or 7-52 if you want a Pearlised effect.


You can apply Red Orange Wool Crepe for the eyebrows with Spirit Gum (Watersoluble Mastix or Stubble Paste would be best)



or cut some hair from an orange wig which you can probably find on ebay! If you have curly hair maybe just spray it with Stargazer Red/Orange hair colour.

Here are some cool
costume ideas