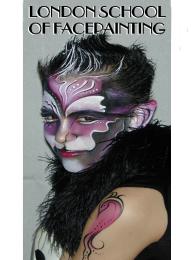 Sep 28, 2021
It is with regret that the London School of Facepainting has decided not to continue with offering classes for the foreseeable future. We had been hoping for suitable (affordable) premises which have not manifested despite our best efforts. Having established such an enviable reputation over the years it is with great sadness that we have decided to withdraw, but sometimes good things must come to an end.
We believe we have made a valuable contribution to 'the world of facepainting', releasing countless beautiful butterflies from chrysalises for over a decade, some that attended our early classes are still flying high!
We have met some wonderful people on the journey (many remain close friends), and it's been delightful to witness their ongoing development as happy, confident painters and even superstars!
We do plan to hold residential courses in West Wales during the summer months; please do let us know if you would be interested in information on these. There could be accommodation for children as well as students, if required.
---